Marta Walsh has sneak peek photos from this morning's, November 22, 2010, Victoria's Secret in-store holiday gift event with Victoria's Secret Angels, Adriana Lima, Chanel Iman, Lily Aldridge and Erin Heatherton and a list to their favorite holiday gift picks.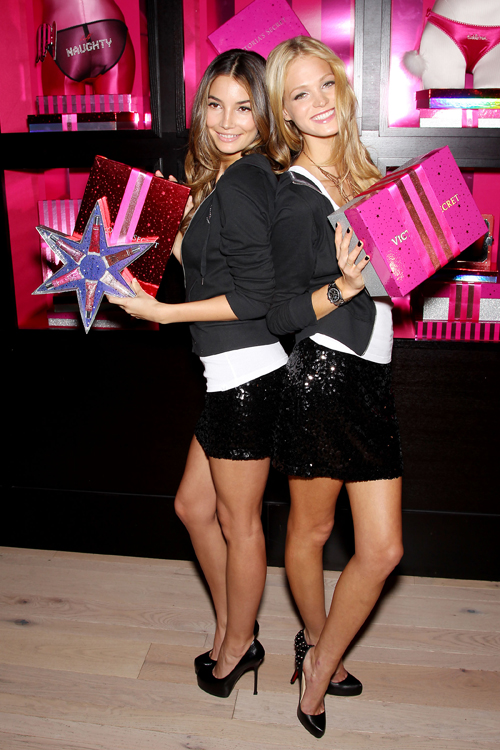 Victoria's Secret celebrated the holidays with sexy gifts from the ultimate holiday shopping destination. Victoria's Secret Angels Shared their favorite gifts for the holidays and tips for selecting the perfect gift. Here are some of Victoria's Secret's sexiest gifts for the holidays:
1. Adriana Lima's Favorites:
· The Miraculous Bra $49.50-$54
· Flannel Boxies for a perfect amount of cute and cozy
· Midnight Glamour Collection $8-$24, a sexy collection for eyes, lips, and nails in jewel compacts
· Victoria's Secret Gift Card, the perfect gift that allows the one you love to buy their favorite items that have been on their wish list forever!
2. Chanel Iman's Favorties:
· The Miraculous Bra $49.50-$54
· Long Jane Thermal PJ's $49.50, cozy thermal sets in festive prints
· Victoria's Secret Bombshell $15-$45, the latest signature scent comes in a body mist, parfum, lotion, wash, and powder
3. Lily Aldridge Favorites:
· Very Sexy Starlet Halter $45-$58
· Flannel PJ's $49.50, a cozy set for lounging in style
· Best of VS Gift Set $40, a set which includes your favorite Victoria's Secret scents
· Holiday Bombshell Shimmer Collection $20-$29, adds a little glimmer to the season
4. Erin Heatherton Favorites:
· Incredible Bra $45 – $48
· Fleece Robes $49.50-$59.50, warm and cozy robe for winter mornings
· Holiday Ornaments $10, feminine ornaments with your favorite Victoria's Secret beauty items
THE VICTORIA'S SECRET FASHION SHOW will broadcast Tuesday, Nov. 30, 2010, (10:00-11:00 PM, ET/PT) on the CBS Television Network.
The fashion spectacular will feature a runway presentation and musical performances from Grammy nominated superstars Katy Perry and Akon, red carpet interviews, model profiles and a behind-the-scenes look at the making of the world's most celebrated fashion show.