Introducing Zensation Skincare of Switzerland. Pure and effective, Zensation products are formulated with natural Swiss Alpine plant and fruit extracts. Without using harmful ingredients, Zensation products naturally rehydrate skin.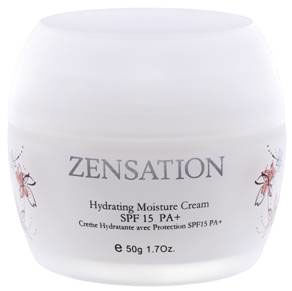 Zensation NEW Hydrating Moisture Cream SPF 15 PA+
Environmental pollutants affect our air, water and plant life. In order to harvest the purest ingredients, Zensation built its laboratory in the heart of the Swiss Riviera, high above contaminated urban areas. Zensation products use Alpine plant extracts – found almost 4,000 feet above polluted city air – and glacial spring water with high mineral content, which assures the finest quality ingredients. The combination of pure ingredients, extensive research and technological innovation makes each Zensation product ground-breaking and effective.
Zensation NEW Hydrating Moisture Cream SPF 15 PA+
What it is: This luxurious and fast absorbing cream hydrates and designed to prevent premature signs of aging. Palmityol Pentapeptide smoothes wrinkles while Sodium Hyaluronate and Plant Ceramides moisturize to preserve youthful, healthy skin. The perfect everyday moisturizer, Zensation Hydrating Moisture Cream SPF 15 PA+ is absorbed by skin quickly, creating a perfectly prepped face for makeup application.
Key ingredients: Palmityol Pentapeptide-4. Plant Ceramides. Sodium Hyaluronate. Lavendar Oil. Roman Chamomile Oil. Jojoba Seed Oil.
How to use it: Apply every morning on thoroughly cleansed and toned skin
· Suitable for all skin types
· No harmful preservatives used
· Alcohol, colorant, synthetic fragrance, mineral oil and paraben free
· Contains naturally derived fragrance and essential oils for an aromatherapy experience
· Fully developed and manufactured in Switzerland
Price: $85 for 1.7oz
Available at www.zensationbeaute.com
Marta Walsh says: "I have discovered this exquisite skincare line called Zensation about 3 years ago and it was love from first use. My favorite from the line is Zensation Collagen Rose Toner."