Marc by Marc Jacobs Fall 2012 Fall 2012 NYC Fashion Week. Makeup by Dick Page, Shiseido Artistic Director.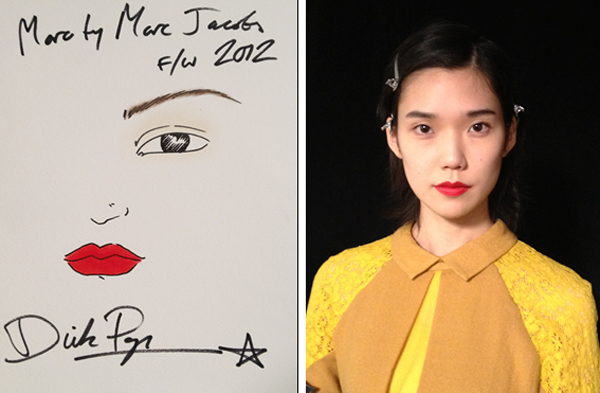 MAKEUP INSPIRATION
This "Sophisticated 80s" look was created for the Fall 2012 Marc by Marc Jacobs collection, which was full of iconic 80s references, jewel tones and an edginess steeped in traditional silhouettes. Shiseido Artistic Director, Dick Page, created a graphic lip for the runway, which was "borderline cartoony and felt like wax crayon." In the spirit of childhood experimentation, Dick played with products that are intended for the lid and cheek but created a beautiful effect for the brow and eyes. The result? A look that was both modern and "two dimensional."
How to get a sophisticated 80s makeup look
FACE
The Marc by Marc Jacobs face was pure matte perfection, featuring velvety skin that emulated "a flat, poster paint effect," and allowed the natural rosiness of the cheeks to peek through ever so slightly.
Dick started with a clean, well-moisturized base and applied a wash of Dual Balancing Foundation to remove any redness or imperfections. No color was added to the cheeks.
EYES
The eyes were treated to a shimmery, highlighted "halo," offset with full, weighty, natural brows by using products for "all the wrong reasons."
To add weight to the brow, Dick created a custom blend of cream shadows to complement the natural brow shade. He used Shimmering Cream Eye Color in Sable (BR709), Meadow (BE204) and Caviar (BK912) for brunettes and Leather (BR306) for redheads. These cream shadows allowed Dick to easily "customize color for each model." (Tip: add a bit of clear brow gel to the cream color if it gets a little clumpy.)
Using a fluff brush, Dick blended Luminizing Satin Face Color in Soft Beam Gold (BE206) and High Beam White (WT905), and applied around the entire eye area to create a halo effect.
He then added Perfect Mascara Full Definition in Black (BK901) to just the upper lashes, curling them only if they had no natural curve to them already.
LIPS
Red was on everyone's lips for the look, as Dick whipped up a custom crimson shade for each girl. "This is what lipstick is like before they finish making it," he said. "Waxy and condensed."
Using a Small Eye Shadow Brush, Dick applied the custom matte red shade to the lip area. To create a similar look, try Perfect Rouge in Cerise (RD516) and Valentine (RD415). Dick focused on a precise, defined application for a perfect pop of color. (Tip: "Resist the urge to overdraw." If you have thinner lips, accentuate them ever so slightly.)