Rebecca Minkoff's new luxurious handbag line, Rebecca Minkoff Collection debuts this month exclusively at Saks Fifth Avenue. The Collection features exotic skins, customized rose gold hardware and multi-strand shoulder straps that mimic long necklaces. Rebecca's signature 'Morning After Bag' gets a hip makeover in this Collection with grid studwork and exaggerated buckles on the sides. Prices range from $450 – $850.

Saks Fifth Avenue announces the debut of famed designer Rebecca Minkoff's luxury handbag collection. The line will launch this May 2010 and is exclusive to Saks Fifth Avenue stores across the country.
For spring 2010, original shapes from her eponymous line, such as the 'Nikki' and the iconic 'Morning After' bag are superiorly refined in lizard and adorned with metal studs. Minkoff will also introduce exclusive new shapes, such as drawstring bucket bags, oversized classic totes and side-saddle messenger bags in zig zag patchwork skins and new tonal plays on color. Multi-strand chain straps that mimic long necklaces add an edgy twist to each piece.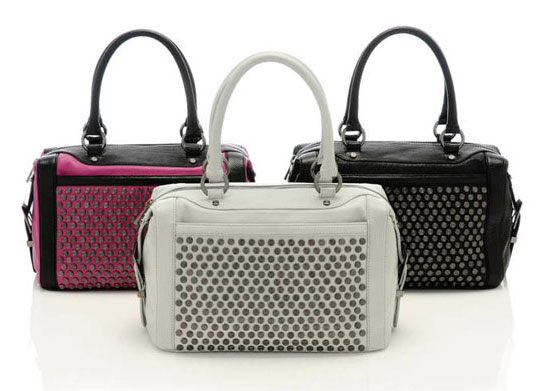 "I chose to partner with Saks to launch my collection line because of the timeless luxury and superior quality the store represents," said Minkoff. "It is an exciting honor to join the list of exclusive luxury handbag designers available at Saks Fifth Avenue. Saks customers are already familiar with the current Rebecca Minkoff line and have been very supportive over the years. I am hoping to not only provide my existing customers with a more luxurious option, but to also tap into a new set of young Saks shoppers who purchase designer bags for the style and quality, not just the label."
"Rebecca Minkoff's handbags have always been in high demand at Saks," said Cody Kondo, group senior vice president and general merchandise manager for women's shoes, handbags, accessories and jewelry. "We feel strongly that this new collection will bring her designs to a new level of sophistication, one which our customers will fully embrace. We value Rebecca's willingness to work with us exclusively and are excited to bring her bags to a new group of customers."
Recognized for her flirty-cool aesthetic, the New York-based designer is known for fusing exotic skins and intricate hardware to create uniquely inspired handbags. Since the launch of her label in 2001, Minkoff's handbags have attracted A-list celebrity fans, such as: Blake Lively, Rachel Bilson, Leighton Meister, Alexa Chung, and Agyness Deyn, who have all been photographed toting one of Minkoff's iconic handbags.