I stumbled upon the Silvana Danies Jewelry collection and 2 things caught my attention. The evil eye (seen in bracelet below) theme and Hamsa (which means 5 in Arabic seen in necklace blow) both are symbols known in some Mediterraneans countries for 'protection against bad energy' from other people. Being born to a Georgian family, growing up in Israel, and traveling to Turkey these 2 symbols are very familiar to me.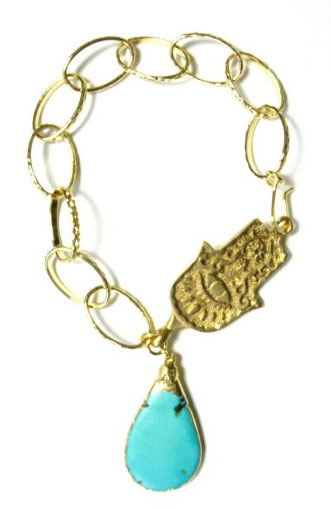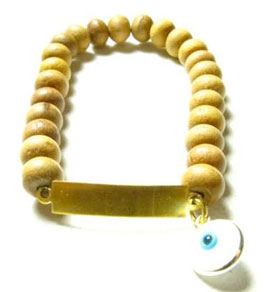 The other piece of jewelry was the layered effect which is very trendy and IN right now. This season guys, don't be afraid to accessorize, accessorize, accessorize. This necklace would look fabulous over plain white or black t-shirt or on bare skin. Well done Silvana, we love:)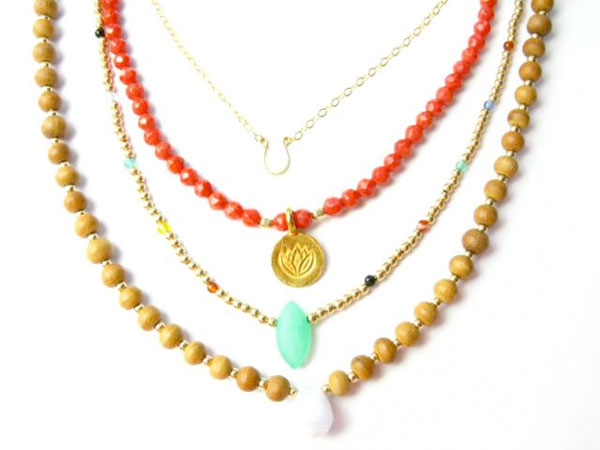 More about Silvana Danies Jewelry: Exotic pieces filled with free-spirited touches make Silvana Danies jewelry this year's IT prerequisite for a fashionable summer. Silvana, an established designer in San Francisco, CA has finally landed in sunny Florida with one objective in mind, introduce her collection of earthy jewelry. After successfully creating original and one-of-a-kind pieces in California, she knew it was time to spread her wings and reach out to the Eastern Coast; and how lucky we are that she did! Her new collection of jewelry, titled "A Precious Hippie Collection" will be introduced into the Miami and New York market in early April 2010.
Born in the coastal Caribbean city of Barranquilla. Colombia, Silvana believes in the beauty of raw materials and the fascination we have with their spiritual meaning. With that in mind, she made sure that every single piece in her collection has intricate artifacts that are carefully crafted with precious gems and metals. In addition to perfectly maneuvering different materials, and thanks to her psychology studies, Silvana is able to bring passion and psyche together to create pieces that not only are beautiful, but also have extra meaning. This is what characterizes her pieces and makes them unique, her ability to blend significance along with elaborated designs.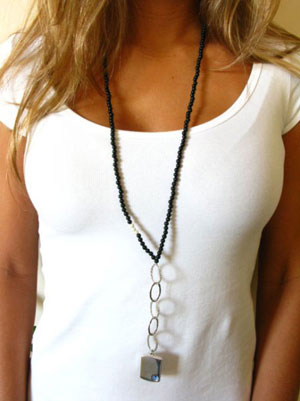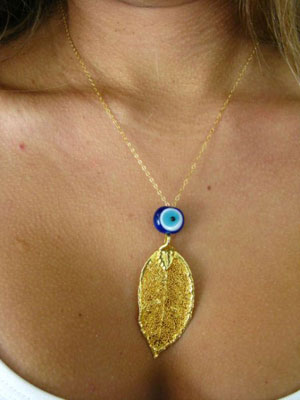 Leather, gemstones, metals and sandalwood are Silvana's instruments in creating designs that completely manifest that bohemian-chic look sought-out by many. But it doesn't end there, Silvana adds a special twist to her designs and includes rough edges in form of Tibetan Horns, skulls and Hamsa symbols. They adorn many of her necklaces, earrings and bracelets, and bring variety in order to satisfy every taste and style. "My objective is to transform natural elements into pieces that are inventive, individual and that embrace integrity," says Silvana.
Silvana Danies creations share one key feature and that is respect for the natural elements, which makes her jewelry line transcend any periodical fashion trend, as it adds spiritual value to any outfit. Therefore, buying a Silvana Danies piece comes with a very special perk, eternal fashion.
Visit the official Silvana Danies Jewelry Website for additional details.
About the Author
I am one of the top fashion and beauty bloggers in the world also a Luxury Paradise Valley and Scottsdale REALTOR with Russ Lyon Sotheby's International Realty.