Few days ago I visited beautiful San Francisco CA for the T.J. Maxx Spring Fashion "Behind the Seams" Event where I got  a sneak peek to the world of off-price retailing. Style expert Alison Deyette was at the T.J. Maxx location on 855 Harrison Street San Francisco and gave me useful tips on trends and behind-the-scenes info on all things Spring Fashion. What was fascinating for me from all this experience is learning about things I didn't know before about T.J. Maxx and Marshalls (the sister store) and I thought to share.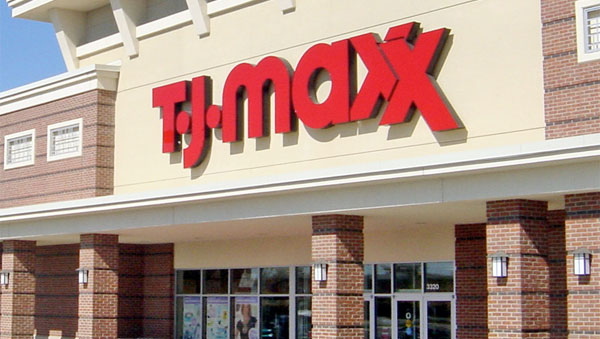 Style Expert Alison Deyette at the T.J. Maxx location on 855 Harrison Street San Francisco CA
Did you know that T.J. Maxx and Marshalls have all of the season's must-have designer fashion, footwear and accessories at 60% less than department and specialty stores. Whether your style is Rocker Chic (such as myself:) or Romantic Feminine T.J. Maxx got you covered with Spring/Summer essentials. While T.J. Maxx is all about the stylish woman Marshalls is all about their stylish shoes. Some T.J. Maxx location even have a section called "Runway" where you can get your hands on prime designer clothes.

L to R: a trench coat from T.J. Maxx for $80, Miss Sixty trench coat for $200 definitely the look for less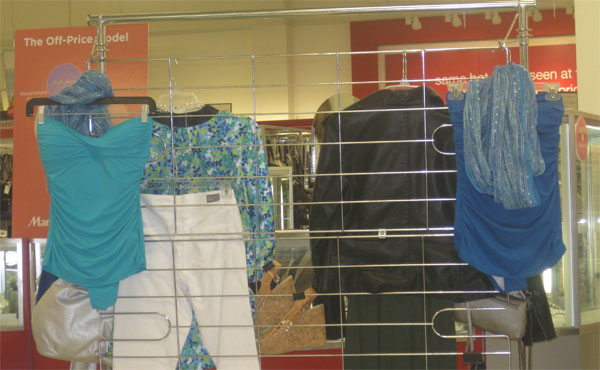 2 swimsuits one for $100 and the T. J. Maxx version for $25. Aside from the added scarf can't even tell which is which…can you?
While other retailers buy merchandise several times a year, T.J. Maxx buyers travel to market forty weeks a year, sourcing from 12,000 vendors in 60 countries! This allows them to buy closer to need and be smarter about trends and to also negotiate a better price to vendors and pass those saving to you. Talking about buying power. And with 10,000 new merchandise seasonally items are fresh and current.
Where all these T.J. Maxx clothes are coming from you may ask? Department stores planning their inventories much lower, overbuying and then canceling orders, or designers overproducing. All these things allow T.J. Maxx to deliver the SAME merchandise sold in department stores, at the same time, at much lower price. Over 95% of merchandise at T.J. Maxx and Marshalls is the same first quality items that you would find at a department or specialty store at the same time.
With T.J.Maxx you don't need to wait for that big sale or clip coupons making life much easier. If you want to get more for your money and stock up on Spring Summer classic you might want to add T.J. Maxx on your list.
While learning all about T.J. Maxx I also learned more about San Francisco. Didn't realize it was noting like LA with its somewhat moody weather. Rain, sun, rain sun all day. Maybe I just got there at the wrong day lol. The Pacific Hights neighborhood was just breathtaking and the actual city is very dynamic. I stayed at Hotel Monaco and ate at their restaurant Grand Cafe. The menu is French and my Beef Bourguignon didn't disappoint. If you are looking to have a drink and mingle check out the Velvet Room lounge at the Clift Hotel San Francisco which is right next to Hotel Monaco.

San Francisco

Hotel Monaco
Now back to Phoenix AZ and it is Friday. I'm going to stop by T.J. Maxx this weekend and check what goodies they have for me. Happy shopping:)
Visit www.tjmaxx.com and get tips on what spring summer looks are hot right now, or, stop by the Maxxsinita Corner and share your T.J. Maxx fun shopping trills with other Maxxinistas.