All Posts Tagged With: "Hope Diamond"
The Smithsonian Channel is letting the world, that means YOU, to VOTE on the setting of the new Hope Diamond just in time for the 50th Anniversary of the donation of the HOPE DIAMOND!
Now you can vote and decide the setting of a 45.52-carat blue diamond!!!
Which out of the 3 The Hope Diamond settings in images below are you? Marta's pick is setting number 3 from left…
Submit Your Vote HERE! The voting will take place online from August 19 – September 7.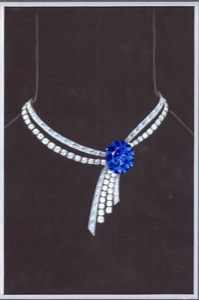 Go behind the scenes of The Hope Diamond settings creation to help your decision: