ARCONA natural skincare is proud to launch at Nordstrom Santa Monica Place this Friday, August 27, 2010!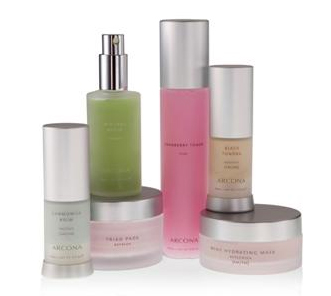 For over 20 years, ARCONA has been known for its cult following among Hollywood A-listers, including Natalie Portman, Anna Kendrick, Zac Efron, China Chow, Kellan Lutz, Jessica Szohr and Emily Deschanel. LA-based ARCONA is thrilled to bring their highly efficacious products – and star-power – to Nordstrom! As celebs have known for years, the natural skincare formulas deliver flawless skin – that glows.
Nordstrom will carry the ARCONA line, including favorites such as Triad Pads, Magic White Ice and Wine Hydrating Mask.
ARCONA will also be launching at several Nordstom locations across the country,
Now through October 2010:
August:
Santa Monica, CA – Santa Monica Place OPENS August 27th!
Las Vegas, NV – Fashion Mall
San Jose, CA – Valley Fair
Newport, CA – Fashion Island
September:
Chicago, IL – Michigan Ave
Portland, OR – Downtown
Dallas, TX – NorthPark Center
Boca Raton, FL – Town Center at Boca Raton
October:
Portland, OR – Washington Square
Honolulu, HI – Ala Moana
Short Hills, NJ – The Mall at Short Hills
San Diego, CA – Fashion Valley
All products will be available for purchase on the Nordstrom beauty floor, as well as on www.nordstrombeauty.com.