Actress Ashley Greene, mark's new Brand Ambassador and star of the "Twilight" series, made her mark at the 9th Annual Chrysalis Butterfly Ball (2010) in Los Angeles this weekend. mark Celebrity Makeup Artist Mai Quynh shared her top makeup tips for creating Ashley's beautiful makeup look!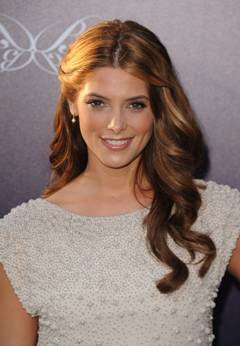 How to get Ashley Greene's makeup look:
"I started by applying mark Calm and Composed Super Soothing Moisturizer to Ashley's skin as a moisturizing base. This moisturizer is very gentle and is great for all skin types.
Next, I used mark Face Xpert Flawless Touch Makeup in Honey to even out her skin tone and mark Good Riddance Hook Up Concealer in Light/Medium around her nose and under her eyes. This concealer melts into the skin, so it's easy to blend. Next, I set her foundation with mark Matte-nificent Oil-Absorbing Powder in Golden Honey using the mark Powder Brush. Ashley has great skin, so I chose this powder because it has sheer to light coverage. For her cheeks, I dusted mark Good Glowing Mosaic Blush Custom Color Palette in Golden Glo using the mark Angled Contour Brush.
Eyes
"I prepped Ashley's eyes by applying mark Please Hold Eye Primer in Light/Medium. Next, I applied mark I-mark Custom Pick Eyeshadow in Biscotti to her inner eyelid and Magic to her whole eyelid, blending it outward. Then, using the mark Angled Contour Eyeshadow Brush, I blended the mark I-mark Custom Pick Eyeshadow in Gioia into the crease. Next, I used the mark Flat Eyeliner Brush to apply the mark Keep it Going Longwear Eyeliner & Shadow in Entourage along her top lashes. These duos are great because they stay on all night! Lastly, I smudged mark I-mark Custom Pick Eyeshadow in Gioia along her bottom lash line, then applied two coats of mark Lash Splash Hook Up Waterproof Mascara in Black."
Lips
"I wanted to create a soft rose lip for Ashley with just a hint of nude color. I did this by applying mark Dew Drenched Moisturlicious Lip Color in Mist. Next, I applied mark Glow Baby Glow Hook Up Lip Gloss in Player using the mark Hookup Lip Brush to give her just the right amount of color and shine."