All Posts Tagged With: "makeup tips"
Victoria Rowe is a Celebrity Makeup Artist who had worked with Lady Gaga, Keri Hilson, Ashley Greene, and now Sarah Carter from the new Spielberg series, "Falling Skies". I've met Victoria one day backstage at LA Fashion Week few years a go and I must say she is one cool and talented lady. I'm now pleased to share with Victoria's makeup tips especially for summer.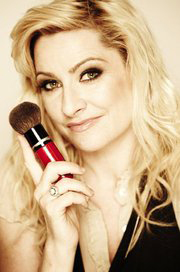 Victoria's TOP TEN Makeup Items
Everyone NEEDS to have at home or in their purse right now!
1. Oil free facial moisturizer I prefer ALBA Oil-free Green Tea Moisturizer, Avalon Organics Lavender Moisture cream for sensitive skin, or BLISS SPA Oxygen +Vitamin C Cream (gel). Any of these will combat dryness without oil and, dare I say, help get rid of most every kind of ACNE in a woman, girl, or man of any age.
Kate Bosworth in CHANEL Beauté. CHANEL Celebrity Makeup Artist Kate Lee worked with Kate Bosworth at the season premiere of True Blood on Tuesday, June 8th. 2010. Kate shares with us her tips on how to get Kate's warm, sun kissed makeup look!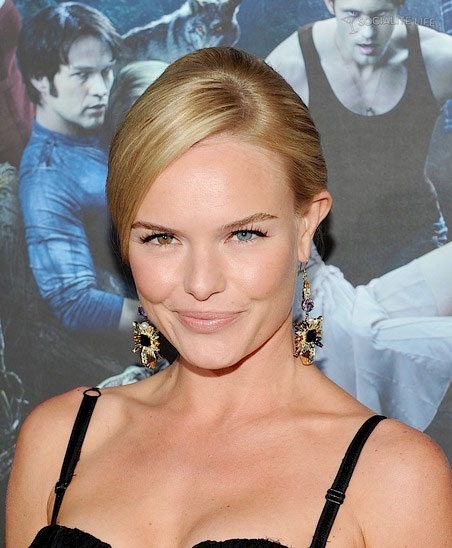 The Makeup Tutorial:
"The base was minimal, Kate was tanned and so I prepped the skin with CHANEL Hydramax + Active Serum to make sure she was very hydrated, and a tiny wisp of CHANEL Vitalumiere Fluid Makeup was enough to bring the skin tone to match the chest and body.
Actress Ashley Greene, mark's new Brand Ambassador and star of the "Twilight" series, made her mark at the 9th Annual Chrysalis Butterfly Ball (2010) in Los Angeles this weekend. mark Celebrity Makeup Artist Mai Quynh shared her top makeup tips for creating Ashley's beautiful makeup look!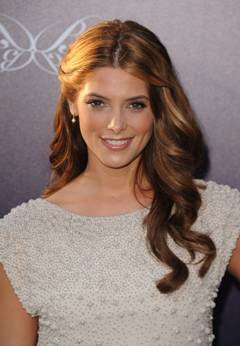 How to get Ashley Greene's makeup look:
"I started by applying mark Calm and Composed Super Soothing Moisturizer to Ashley's skin as a moisturizing base. This moisturizer is very gentle and is great for all skin types.
Introducing: Celebrity Makeup Artist and Luxury Cosmetics Designer AJ Crimson. Co-founder of luxury cosmetics line, Kissable Couture, AJ has built an established reputation for clean yet luxe makeup and skin techniques, while quickly becoming one of today's premier makeup artists and beauty experts. AJ has worked on numerous key campaigns with many artists and celebrities including Fergie, Hillary Duff, Adrienne Bailon, Amerie, Estelle, Mya, Christina Milian, Letoya Luckett, Missy Elliott and Keyshia Cole just to name a few.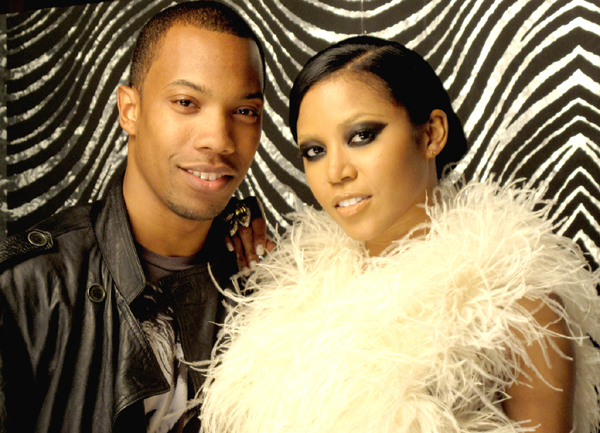 AJ Crimson With Recording artist Amerie
"Always remember this Beauty Statement: There's no need to break the bank to look great!"– AJ Crimson.
WATCH: AJ was recently on The E! Network's "That Morning Show", sharing some of his beauty tips with all of you beauty addicts out there in the world!
visit www.ajcrimson.com to learn more about AJ's work! 
Talking Makeup is excited to share with you holiday beauty tips from Project Runway star and L'Oréal Paris Consulting Makeup Artist, Collier Strong.
Dramatic, full lashes— Introducing Telescopic Explosion Mascara by L'Oreal Paris, a new mascara with a breakthrough spherical brush offering 360-degree coverage from any (and EVERY) angle. This innovative mascara is designed to reach even the smallest lashes to separate every little lash from root to tip for explosive definition.
Expert Tip: "Layer multiple coats and take advantage of how this brush gets every little lash—especially the corners!" –Collier Strong

Sophisticated red lips—Nothing says instant glamour for the holidays like red lips. Try Colour Riche Anti-Aging Serum Lipcolour in Real Red by L'Oreal Paris.
Expert Tip: "Select a shade that compliments your skin tone based on the undertone of the lipstick itself. Those with fair skin should try reds that have a blue undertone; olive or dark skin should opt for orange undertones." –Collier Strong
Designer Rachel Roy has built a following for not only her beautiful designer and diffusion collections (Rachel | Rachel Roy is available in Macy's stores across the U.S. and on RachelRoy.com) but also her amazing personal style and beauty. Talking Makeup has the scoop on how Rachel expresses her Indian ancestry through her makeup, and as well as her personal tricks to looking bright, fresh and flawless.
BTW- I loved watching Rachel Roy in one of the episodes of MTV's The City. Are you also a fan?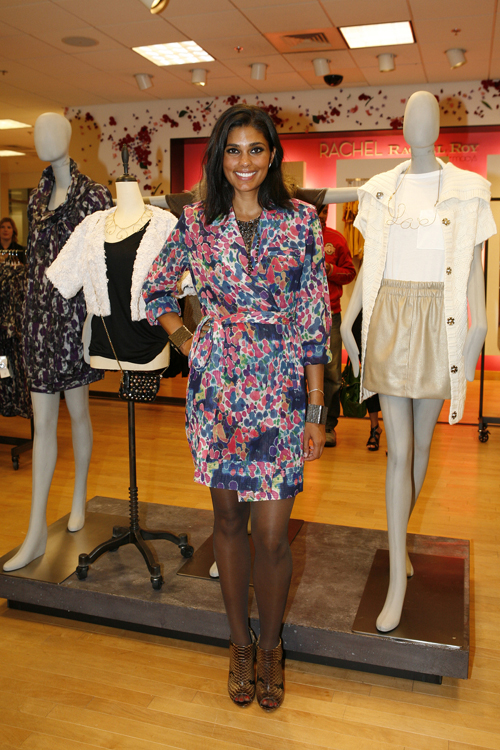 Q. Have you picked up any great beauty tips or tricks that you can share?
RR: I feel a great mascara can open the eye and instantly make you look as though you've have a good night's sleep, even when that is not the case. I use 2-3 coats of Lancome's Fatale on the top, bottom, and also on the back of the top lashes.
Rouge d'Armani: Color ecstasy. Pure, luxurious ecstasy in lip color. More than color, more than comfort, more than contour, more than hold. More than a lipstick.
In image below Rihanna is wearing Rouge d'Armani during Fashion's Night Out September 10th, 2009.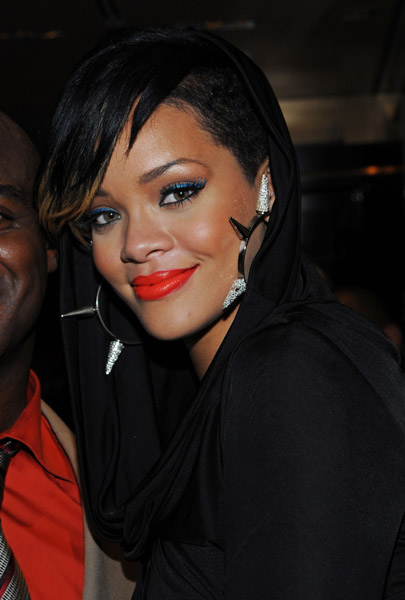 Rouge d'Armani hasn't even hit counters and has already become a cult favorite among beauty insiders – editors, makeup artists and celebrities alike. For Fashion's Night Out, the Giorgio Armani Beauty counter was a hot spot on Vogue's "Beauty Itinerary" with Rouge d'Armani 600 selected as a favorite by Vogue editors, while later that month Harper's Bazaar declared Rouge d'Armani 500 a "must-have" lipstick. Rouge d'Armani has also become a staple in makeup artists' kits whose brushes grace some of Hollywood's hottest stars, including Jennifer Nettles, Jordana Brewster, Taylor Swift and Camilla Belle. Several celebrities have been spotted wearing Rouge d'Armani around town, including Rihanna featuring Rouge d'Armani 401 and Kerry Washington wearing Rouge d'Armani 100 during NYC's Fashion's Night Out – it was the perfect long-wear lipstick for the night's festivities.
Foundation is one of my favorite thing about makeup! I'm all about getting that flawless skin whether naturally with great skin care, or faking it with the perfect foundation. The right foundation has the power to give you an instant makeover and that wow factor. Needless to say, applying foundation is a very important step in my makeup routine.
Here are some foundation tips from top makeup artist and NARS Cosmetics founder, François Nars:

François Nars (left) with model
What is the best way to identify the right foundation for your skin tone?
Natural light! Make sure you are in natural light when choosing a foundation shade. And, it should match perfectly with the base of your neck.
What is the biggest mistake women make when wearing foundation?
Wearing too much foundation or the wrong shade – either too dark or too light. Finding the right shade and right foundation texture is crucial. The skin's natural highlights should be shining through.
How often/what time of year should a woman have her foundation shade matched?
As often as needed; every time the skin tone changes. You should have several shades of foundation in your makeup wardrobe.
Beat the Heat with Dior sweat-proof makeup tips!
Looking for ways to beat the heat this Summer? Diorshow Celebrity Makeup Artist, Ricky Wilson, offers some beauty tips to keep you looking both pretty and cool when the temperature rises: "Makeup that holds up in high heat situations is never thick or textured. Less is definition more is when you know you are going to sweat. Remember to always blot before powder to eliminate makeup build and creating texture".
The following are the Dior products Ricky Wilson recommends:
DiorSkin Airflash Spray Foundation: "Sweat proof and transfer resistant. Since it is so light weight and breathable it gives you coverage without breaking down in high heat and humidity."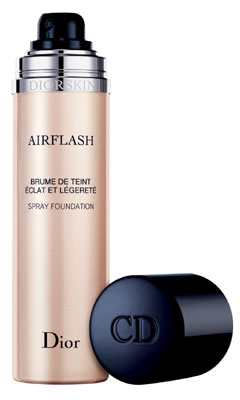 Dior Waterproof Crayon Eyeliner in Trinidad Black: "Perfect for lining through eyes. It's silky smooth and goes on with ease but won't budge once it sets."