Rouge d'Armani: Color ecstasy. Pure, luxurious ecstasy in lip color. More than color, more than comfort, more than contour, more than hold. More than a lipstick.
In image below Rihanna is wearing Rouge d'Armani during Fashion's Night Out September 10th, 2009.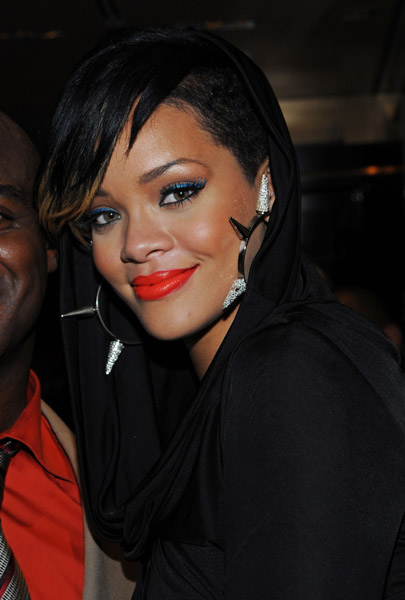 Rouge d'Armani hasn't even hit counters and has already become a cult favorite among beauty insiders – editors, makeup artists and celebrities alike. For Fashion's Night Out, the Giorgio Armani Beauty counter was a hot spot on Vogue's "Beauty Itinerary" with Rouge d'Armani 600 selected as a favorite by Vogue editors, while later that month Harper's Bazaar declared Rouge d'Armani 500 a "must-have" lipstick. Rouge d'Armani has also become a staple in makeup artists' kits whose brushes grace some of Hollywood's hottest stars, including Jennifer Nettles, Jordana Brewster, Taylor Swift and Camilla Belle. Several celebrities have been spotted wearing Rouge d'Armani around town, including Rihanna featuring Rouge d'Armani 401 and Kerry Washington wearing Rouge d'Armani 100 during NYC's Fashion's Night Out – it was the perfect long-wear lipstick for the night's festivities.
Expert Makeup Tips: Rouge d'Armani by Linda Cantello: "Be modern – focus on the lips. I love red lips as they're associated with glamour and nostalgia. Rouge d'Armani is so different from other lipsticks – it is amazing. You can tell as soon as you touch it that its contemporary formula is different from any other. It is long lasting but not drying and it glides on with a satin lacquered finish without feathering. The new polymer allows saturation of very good quality color pigments. When we were working on the colors, I wanted all the colors to be truly flattering so that a woman would wear every color and feel confident. During all my years of professional working experience, I have been gathering samples of my most favorite colors such as a flower petal, a garnet, etc. We managed to tweak the formula for each color to achieve exactly the same shade as my samples. The beiges are very wearable and don't look pasty. I wanted a true, true red with a rich feel. It's perfect timing for red – it's the color of the season. I used Rouge d'Armani for the Giorgio Armani Fall 2009 collection and all the models loved it!"
How To Apply Rouge d'Armani: "Accentuate the lips with Rouge d'Armani, using very little mascara and just a fine, soft line next to the eyelashes to outline the eye."
Giorgio Armani Beauty introduces Rouge d'Armani – a new approach to color. Inspired by the Micro-fil technology that was created 10 years ago to treat makeup as a made to measure garment for the skin, Color-Fil opens a new era to lipstick color technology that transcends classic formulations and long lasting lipsticks. Color-fil technology provides full lasting color, high precision contours and exceptional comfort all combined in one formula.
With Color-Fil technology Giorgio Armani pioneers a breakthrough cosmetic color technology, which owes its highly innovative formula to a unique agent – Color bond. Color bond, the result of seven years of research and 20 patents, offers exceptional quality of comfort, luminosity and color intensity. Rouge d'Armani boasts up to 8 hours of uniform color leaving impeccable outlines without fading or feathering. Sealed in an elegant sleek black lacquered case, with an exclusive magnetic pocket book closing, Rouge d'Armani shuts with an instant click.
Rouge d'Armani lipstick has suggested retail price of $30 and will be available beginning in October. The full collection can be found online at www.giorgioarmanibeauty.com .
Rihanna In Rouge D'Armani
Get A Sneak Peek To Rouge d'Armani NEW Lipstick by Giorgio Armani Beauty