Get The Look: Audrina Patridge's Messy Side Braid. Here's how to!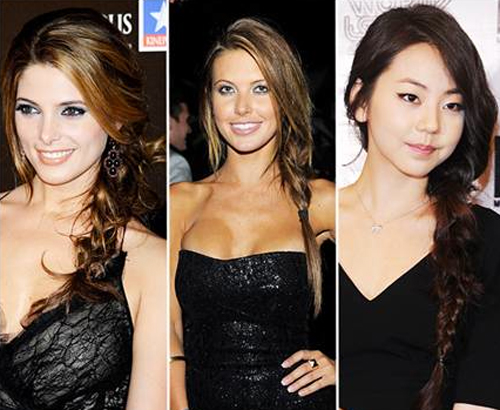 L to R: Ashley Greene, Audrina Patridge, Sohee
There's just something about a side braid that's so effortlessly cute and girly! It's such a versatile look that can easily go from day to night, seamlessly. Not to mention, it's a style with staying power as the side braid has been a trend for quite some time and seems to be sticking around. What's more is this style that A-list celebs are rockin' is so easy to do! Celebrities including Audrina Patridge, Ashley Greene,  and Sohee have been recently seen sporting this fun, flirty hairstyle. Want to score the look? Sam Brocato, stylist and owner of the Sam Brocato Salon in New York City tells TalkingMakeup.com how to pull it off!
Get the look with these 4 easy steps from Sam:
Step 1: First, pull all of your hair over to one side. If you want your hair to be behind the ear, be sure to shift the hair in that direction before starting to braid.
Step 2: "If you have straight hair, spritz it with a texture spray like Brocato Back to the Beach to give it a 'not so finished' personality," says Sam. Smooth the top with your hand and start to braid. "A typical three-strand braid works perfectly, but the more you experiment the more personalized the look will be," says Sam.
Step 3: Once the braid is in place, tie the end with an elastic hair tie. Now, hold the braid in the middle with one hand. Then, with your free hand take one or two strands of hair at the end of the braid and pull on these strands of hair. Now gently push the braid in hand up towards the scalp in one-inch increments. Repeat a few times. This gives the braid a chunky, disheveled appearance.
Step 4: "Finally, take very small pieces of hair near the end of the braid and pull them free so there is a sort of unfinished, messy look to the braid," advises Sam. That's right, the look is supposed to be messy, on purpose!