Jean Fayard, Clarins Make-up Artist, created for the makeup look for the 2013 Angel Sanchez bridal collection during bridal week which took place in New York last week. Soft, light, and romantic were the keywords of this bridal collection. Angel Sanchez worked with materials to create intricate and romantic embroideries for a timeless elegance with a unique, modern twist.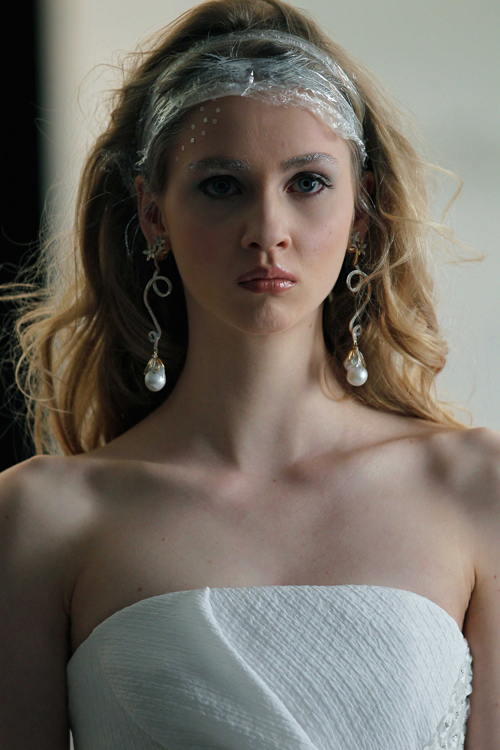 BRIDAL MAKEUP
Jean was inspired by Angel's architectural creations: chic and feminine with an edge. Working with Angel, she imagined a subtle icy turquoise look based on a flawless complexion and touches of radiant light.
HOW TO
Skin:
First, the skin was prepped with Instant Smooth Perfecting Touch to fill in any imperfections and help hold foundation. Next, Jean used the Everlasting Foundation to even the skin without creating a mask. Her tip is to apply the fluid foundation with a brush to easily blend it for a natural result. For the blush, she generously applied Blush Prodige in Soft Peach from the apples of the cheeks swept up toward the hairline for a healthy natural glow. She then topped it off with loose powder and sprayed the Clarins Fix' Makeup that helps makeup stay on.
Eyes:
The Eyes were the stars of this look! Jean started with the Instant Light Eye Perfecting Base to prep the eyelids. Then, playing with three eye shadows, the Turquoise and White from the Eye Quartet Mineral Palette in 08 blue sky and the Silver from the Eye Quartet Mineral Palette in 03 graphites, Jean created a frozen feel, blending the colors for a subtle yet edgy result. She then lined the eye with the Eye Pencil in Black applied with a small brush for a soft line at lash, then smudged a bit of the Turquoise eye shadow over the liner on the top and bottom corner at lash line. To add intensity to the eyes, Jean added fake lashes one by one, only at the outer corner of the eyes. One minimal coat of Instant Definition Mascara in Black was all that was needed to finish the eyes. She then gave some soft definition to the brows using the Pro Palette EyeBrow Kit before lightly brushing them with a silver tint – to create a seamless look with the hair. To top it off, Jean used appliqué elements from the dresses on the forehead above one eye to give a high fashion runaway feel to the look.
Lips:
Soft nude lips completed the look with a Lip Definer pencil in nude, Rouge Prodige lipstick in Nude and Instant Light Natural Lip Perfector 03.