Loving the Essential Traveler Set for men from Elemis. Father's day is around the corner (wink…wink:)!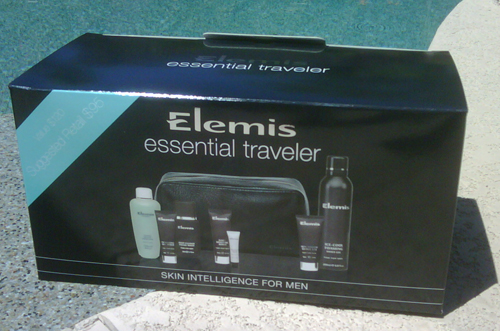 Give the well maintained or well traveled dad in your life a collection of cutting-edge professional skincare products from Elemis that deliver powerful results. The Essential Traveler set is filled with 7 award-winning and clinically proven formulations that are all dad needs for energized, hydrated skin.
Elemis Essential Traveler Set contains: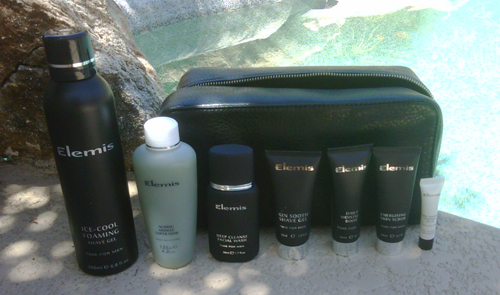 Deep Cleanse Facial Wash (1.69 oz.) – The potent blend of oak bark, spearmint and peppermint in a unique milk protein base helps to remove impurities, decongest the skin and prevent ingrown hairs.
Skin Soothe Shave Gel (1.01 oz.) – Formulated to provide the smoothest shave, this cutting-edge gel contains primed micro-capsules that instantly release a unique complex of marine extracts and Jojoba Oil, known for their skin-soothing action.
Ice-Cool Foaming Shave Gel (6.76 oz.) – Chinese Date, English Oak and Witch Hazel help defend the skin against irritation and razor burn, whilst softening the facial hair to result in the easiest of shaves.
Daily Moisture Boost (0.67 oz.) – contains an exclusive blend of Cactus Cerus Flower and Green Tamanu Oil (taken from the Tree of A Thousand Virtues native to Polynesia) to help soothe shaved skin, while achieving an overall improvement in skin condition.
Time Defence Wrinkle Delay (0.1 oz.) – clinically proven to reduce the number of wrinkles by up to 83% and increase hydration by up to 72% in 28 days!*
Aching Muscle Super Soak (4.22 oz.) – This deep-heat aromatherapeutic remedy is a powerful antidote to overworked, aching muscles, particularly after exercise.
Energising Skin Scrub (0.67 oz.) -The scrub rapidly resurfaces, 'polishes' and brightens the skin, lifting the facial hair before shaving and helping to prevent ingrown hairs and blemishes.
PRICE: $95.00, available at www.timetospa.com/elemis, nordstrom.com or by calling 1-800-7-Beauty