"Shameless" Star Emmy Rossum Challenges Women to Put Their Hair Care Products to the Test and Help Give Away 200,000 Free Full-Sized Bottles of New Suave Professionals Styling Line.

Emmy Rossum
NEW YORK, March 24, 2011 –Actress Emmy Rossum of Showtime's "Shameless" will ask consumers to take "The Suave Challenge" to see if they can tell the difference between hair styled with new Suave Professionals and hair styled with top salon hair care products. The challenge showcases the reinvented and reformulated line of Suave Professionals products that are salon proven to work as well as top salon brands.

Emmy Rossum and Theodore Leaf
Suave Professionals is so confident the new line works as well as a high-end salon brand that the brand invited women to put it to the test themselves by giving away a FREE full-sized styling product to the first 200,000 visitors to Suave Beauty's Facebook Fan Page that day. Additionally, they can visit CanYouTell.com to compare NEW Suave Professionals with a top salon brand by putting them to the ultimate test. Suave is so sure you will not be able to tell, they are giving prizes to anyone who can prove them wrong.
To launch the challenge, Emmy Rossum will host a live event in New York City's Union Square where she will invite consumers to see if they can tell the difference between models; One will be styled with Suave Professionals and the other with a top salon product. Attendees will also be invited to have their hair styled with the new Suave Professionals line to experience the salon quality.
"I'm excited to help prove to women nationwide how well the new Suave Professionals styling line works," says Emmy Rossum. "I work with so many stylists and they use all kinds of products in my hair, but even I can't tell the difference between Suave Professionals and top salon brands! I encourage all women to see if they can tell the difference by visiting Suave Beauty's Facebook page for a free sample and to take "The Suave Challenge" at CanYouTell.com."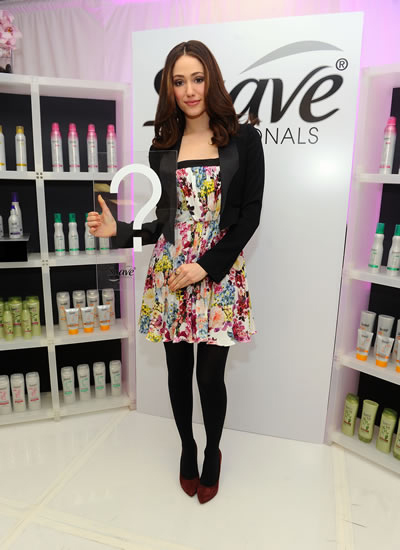 Emmy Rossum is also joined by "The Suave Professional Celebrity Stylists," the brand's team of top hairstylists including Jenny Cho, Theodore Leaf, Luke O'Connor and Leo Rocco. They have been so amazed by the salon-quality performance they are trusting the new Suave Professionals® styling line to help create unforgettable looks at red carpet events and behind-the-scenes at photo shoots. Consumers can watch styling tip videos, get insider tricks and product demos from the pros at Facebook.com/SuaveBeauty and Suave.com.
Consumers have trusted Suave for over 70 years and is used regularly in over half of American households, more than any other hair brand in the U.S. And with the reformulation of the Suave Professionals line, the brand is making it easier than ever to get gorgeous hair at home every day with the new range of styling products, shampoos and conditioners. The collection features 34 products including a Dry Shampoo, Volumizing Root Boost Spray, Touchable Finish Hairsprays and Black Raspberry and White Tea Shampoo and Conditioner, all with improved formulas and fragrances in sleek salon-inspired packaging.
"With the input of our Suave Professional Celebrity Stylists and our top R&D partners, we have worked relentlessly to upgrade, reformulate and repackage the Suave Professionals® line of salon-quality styling and wash and care products," says David Rubin, Unilever Marketing Director, Hair, U.S. "We are more confident than ever that our Suave Professionals line works as well as some salon brands and that is why we are asking consumers to put the products to the test."
For more information on products visit Suave.com and to take the challenge for yourself, check out CanYouTell.com. Become a fan of the SuaveBeauty Facebook Fan Page and follow @SuaveBeauty on Twitter for the latest hair tips, trends and advice.
About Suave
For over 70 years, Suave has been committed to creating professional-quality products for consumers that work as well as high-end salon brands. The brand is challenging consumers everywhere to Rethink Suave, and rediscover the quality that is in every bottle they sell. As America's #1 hair care brand, Suave offers a line of shampoos, conditioners and styling products that are proven to work as well as salon brands. The brand's commitment to quality is why more than half of American households choose Suave. For more information, visit www.suave.com.
About Unilever North America
Unilever works to create a better future every day. We help people feel good, look good and get more out of life with brands and services that are good for them and good for others. Each day, around the world, consumers make 160 million decisions to purchase Unilever products. In the United States, Canada and the Greater Caribbean (Trinidad & Tobago, Dominican Republic, Puerto Rico) the portfolio includes brand icons such as: Axe, Becel, Ben & Jerry's, Bertolli, Blue Band, Breyers, Caress, Country Crock, Degree, Dove personal care products, Hellmann's, Klondike, Knorr, Lipton, Omo, Popsicle, Promise, Q-Tips, Skippy, Slim-Fast, Suave, Sunsilk and Vaseline. All of the preceding brand names are registered trademarks of the Unilever Group of Companies. Dedicated to serving consumers and the communities where we live, work and play, Unilever employs more than 13,000 people across North America – generating nearly $10 billion in sales in 2009. For more information, visit www.unileverusa.com.
About the "CanYouTell.com" Sweepstakes
NO PURCHASE NECESSARY TO ENTER OR WIN. A PURCHASE WILL NOT INCREASE YOUR CHANCES OF WINNING. Open to legal residents of the fifty (50) U.S. and D.C., who are 18 years of age or older. Void where prohibited by law. Begins 3/14/11 at 12 a.m. ET and ends 11/27/11 at 11:59 p.m. ET. For Official Rules, which govern, visit www.suave.com. Sponsor: Conopco, Inc. d/b/a Unilever
Suave 200k Coupon Giveaway Offer Terms and Conditions
Offer starts March 24 at Noon EST and ends when supplies are exhausted (approximately 200,000 coupons/products).("Offer Period") Offer open only to legal residents of the 50 United States and the District of Columbia, 18 years of age or older. Sponsor: Conopco, Inc. d/b/a Unilever.
###