I'm all about the FarmHouse (FHF) Fresh Whoopie whipped white velvet Shea body creme. I love rich moisturizers especially in the winter time and I also love to smell sweet. Not too sweet just a little. The FarmHouse Fresh Whoopie gives me all that! I even liked the vintage-inspired packaging so much so I had to stare at it for few days till throwing it away:)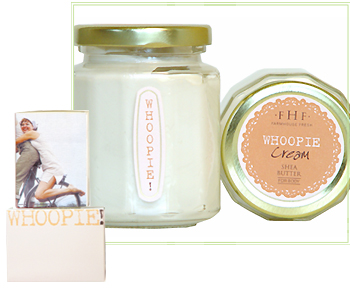 Whoopie! contains a supple blend of Shea and cocoa butters, jojoba seed oil, soybean oil, aloe and vitamins A and E. The butters and oils soften and soothe even the severest of dry, chapped skin, while helping to improve the skin's elasticity. The aloe and vitamin E also help to calm skin irritations and sunburns. Whoopie! is paraben and sulfate free.
Whoopie! retails in a giftable 10 oz. glass jar in a vintage-inspired box with a fun memorabilia image that makes it a beautiful gift and keepsake. The professional moisturizer is available in two sizes: 1 gallon jar (128 oz. net weight); 32 oz. jar (32 oz. net weight).
For more information about the Whoopie! crème or other FarmHouse Fresh professional products, please contact FarmHouse Fresh at 888-773-9626 or visit online at www.farmhousefreshgoods.com . The products can be enjoyed at luxury spas and resorts across the country including Glen Ivy Resorts.