I'm excited to share with you my interview with actress Kali Hawk.
Kali's film role came in the Lion's Gate thriller 'Holla', which cast Kali alongside Michael Bergin as the sweet, unsuspecting camper Caprice. She would follow that project with a supporting role in the Spike Lee comedy 'Lovers & Haters', playing a scathing Hollywood diva opposite singer/superstar Mariah Carey. On television, she has also appeared on the hit CW sitcom 'The Game', executive produced by Kelsey Grammer. Kali's recent film roles include: Trudy in 'Couple's Retreat' next to Vince Vaughn, Malin Akerman, and Kristen Bell. And her role as Chantal in Judd Apatow's film 'Get Him To The Greek' next to Russell Brand, Jonah Hill, and Sean 'P. Diddy' Combs.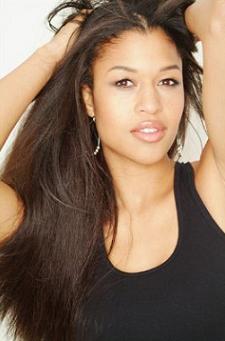 Kali Hawk
In this interview Kali Hawk talk to Marta Walsh about when she has found her love for movies and acting. What was it like on the set with Mariah Carey in Spike Lee's film: Lovers and Haters. Her dream acting role. What's in her makeup bag and future plans.
Chatting with Kali was such a pleasure. She was sweet, funny and witty. I would like to thank you Kali for taking the time to talk to me!
Marta Walsh: Where is your hometown?
Kali Halk: I'm based in LA these days but I'm from New York originally. My family has been in New York for at least 150 years. My mom and I were born in Manhattan; my dad was born in the Bronx. My grandmother went to Hunter College when it was still an all girl's school. I didn't like LA at first naturally. But now that my professional and social network has been expanded I'm starting to love it more.
MW: How did you decide on a career in acting, and what were some of your first breaks as an actress?
KH: My mother used to take me to movies regardless of the rating, even if they were rated R or scary movies. She would just cover my eyes during the sex scenes part. In between the movies we used to talk about what we've watched. If I really liked the movie she would let me stay and watch the movie second time. These were my early beginnings for me falling in love with movies. Then in first grade we had to do a Christmas play. While all the other kids were nervous and getting a stage fright I would just grab their costumes and play their parts. Even at that moment I knew that the show must go on. After that all the parents told my mom: "Your child is an actor, we hope you know that!"
MW: What attracted you to your character in the Spike Lee comedy 'Lovers & Haters' opposite Mariah Carey?
KH: I was attracted to my role because it was different than my natural personality. I was very excited to get the part working with such big director as Spike Lee. Coming from New York, I was always fascinated with Woody Allen, Martin Scorsese, and Spike Lee.
MW: What was it like working with Spike Lee and Mariah Carey in Lovers and Haters?
KH: Spike Lee has a very organic way of working; he doesn't like to push things. He wants to see what you bring to the scene. I therefore got to improvise a lot. Working with Mariah Carey was pretty amazing as well. I've been her fan for a very long time. I remember one funny moment during shooting where I was asked to sit near the camera so Mariah can feed of my energy during the scene. Then Mariah said something like: "Hi I see you over there." and she waved. And I silently replied with 'Hi' and the 'B' word, because my character was supposed to be like that. I then apologize to her and she didn't seem to mind. It is then also when I realize I should work in comedies. Which led me to audition for my role as Trudy in Couples Retreat with Vince Vaughn and Malin Akerman.I also got to improvise a lot in Couples Retreat.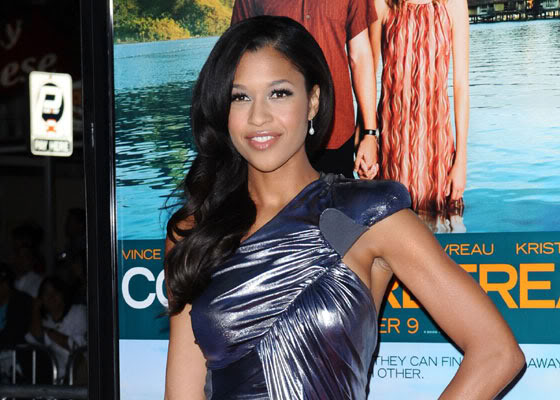 Photo Credit: Bauer-Griffin
Kali Hawk is Trudy in Couples Retreat.
MW: What would be your dream acting role?
KH: I always wanted to be in one of Judd Apatow's movies. I'm a big fan of his films such as The 40 –Year Old Virgin and Knocked Up. So getting a role in the film Get Him to the Greek, which is a spin-off from Forgetting Sarah Marshall, was a dream come true. In this film I get to work with P.Diddy aka Sean Combs and Russel Brand. My other dream acting role would be in an action movie. I really love Will Smith who brought a lot of his personality into his movies. He doesn't seem to take himself too seriously and he always has a smile on his face, even in his action films. One day I would love to do an action film with Will Smith! Also talking to Malin Akerman who plays Ronnie in Couples Retreat was very inspiring to me because she just finished filming the Watchman and she was also in The Proposal. Malin said some wonderful things about the process of making action films, such as: learning the martial arts and choreographing the fight scenes.
MW: What is next for Kali Hawk?
KH: I just finishing up all the promotions for Couples Retreat, and I just came back from Bora Bora where we did our press junket. The general census is that Couples Retreat is destined to be a successful movie. So, I'm just excited about that and also about Get Him To the Greek. It's a lot more movies than I've expected to do in one year!
MW: What is your signature fragrance?
KH: Dior Miss Dior Cherie.
MW: What's in your makeup bag?
KH: Nude or pink lip pencil and I'm not specific on the brand. I actually have one now by Mary Kay and Ashley Olsen. I love all kinds of lip gloss. And, Clinique True Bronze Pressed Powder Bronzer. N.Y.C eye brow pencil.
MW: What is your philosophy about beauty?
KH: Stay true to who you are and authentic as possible to your choices, that's what shines through and makes you attractive.
MW: Who are the Celebrities that inspire you with their talent and beauty?
KH: Kristen Bell and Rihanna.
MW: Which city do you love the most?
KH: I know it will sound a bit random but Holyhead Wales UK, long story.
MW: What one or two things some people may not know about Kali Hawk?
KH: I don't cook at all. I speak Welsh. I never had a drink my entire life. I'm obsessed with lucky numbers. I believe in Numerology. And I once flew to Australia to stop a friend from getting a nose job. She ended up getting it anyways!
Couples Retreat Star Malin Akerman Interviews With Marta Walsh