The latest addition for Summer 2010 to the very gorgeous FLOWERBOMB by Viktor & Rolf perfume family is the FLOWERBOMB Eau de Parfum Rollerball ($22 for 0.33 fl.oz/10 ml). Exclusive to Sephora. I love this travel friendly version of FLOWERBOMB. Also, it is perfect if you are new to the perfume and not ready to buy the big bottle.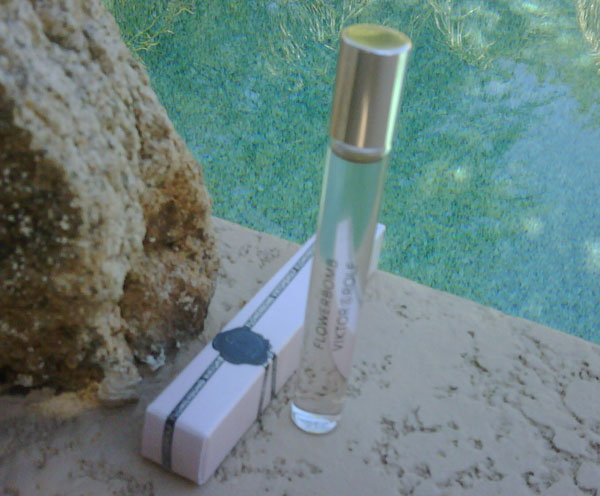 I must admit that at first I was a bit unsure if FLOWERBOMB perfume By Viktor & Rolf was the one for me, but after sometime it grew on me and I'm truly in love with it. After experimenting with many (and I mean very many) perfumes in my lifetime FLOWERBOMB By Viktor & Rolf is a total classic and on Marta Walsh's best perfume list of all time (at least 'of my time' LOL).
FLOWERBOMB is a subtle sexy perfume. It's sweet but not that overly vanilla overpowering kind of sweet. And it's oriental but not too strong like your grandma's old perfume (and we're not naming any names). It is that kind of perfume when you are standing next to a woman and just by mistake and for a split second you got too close and you are just amazed how beautiful and how sophisticated this woman smells. Seriously that happened to me when I bumped into Countess Luann deLesseps from the Real Housewives New York City, believe or not, at the Jill Stuart Fashion Show Spring 2010 in New York City (I still wonder till today what perfume Countess Luann was wearing…)
The formal description of FLOWERBOMB:
This floral explosion releases a profusion of flowers that has the power to make everything seem more positive. Magically evocative notes immediately awaken  your deepest senses, giving you the impression of loving life in your own secret garden away from reality. Fragrance notes: Sambac Jasmine, Centifolia Rose, Cattleya Orchid, and Freesia bloom on a base of Patchouli.