This season brings sunshine, flowers and outdoor parties that demand gorgeous hair. Achieve salon quality results for those occasions when hair matters most with a little help from the Nexxus Nourishing Botanicals line and the below tips from celebrity stylist and Nexxus Creative Director Kevin Mancuso (who you probably recognize from watching Shear Genius on BRAVO):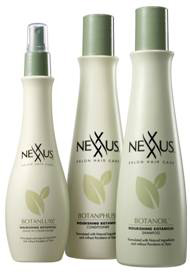 · The sun may feel therapeutic, but it can also rob hair of its natural oils and vibrancy. Safeguard locks with a nutrient-rich conditioner with added emollients and plant proteins, like Nexxus Botanphuse.
· Fight frizz, a major culprit at outdoor events, by using a daily moisturizing shampoo, like Nexxus Botanoil. The added hydration will help smooth cuticles and keep flyaways under control.
· Just as flowers need water, hair needs to be hydrated. Apply moisture where it's needed most with a lightweight leave-in spray, like Nexxus Botanluxe.