New men's fragrance: Gucci by Gucci SPORT pour Homme is the latest addition to Gucci's growing fragrance portfolio for men. Conceived by Gucci Creative Director Frida Giannini, this scent takes its inspiration from the original Gucci by Gucci pour Homme (launched in 2008) yet offers a totally new and powerful olfactory experience for men.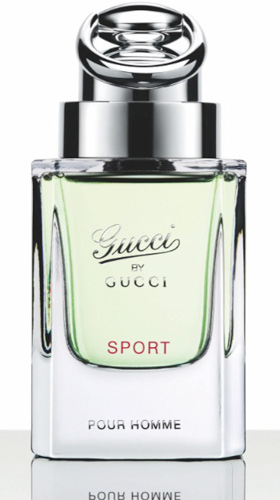 The scent has a nonchalance and an ease that captures the healthy, active aspects of the Gucci man's lifestyle. Its sporty character is underscored by the fragrance's light body and its citrus tones. The mood of this fragrance – cool, fresh, yet strong — evokes a certain playfulness and leisurely state of mind. It is as relevant in "free time" moments as it is for casual every day use.
The packaging, for example, is characterized by the bold red and green web striping that has been a Gucci design signature since the 1950s. Originally inspired by a girth strap used to secure a saddle onto a horse, the web has been used on a variety of iconic Gucci products from loafers and handbags to tennis shoes and sportswear. Now, the original red and green stripes are being applied to a fragrance, which give it a bold graphic quality and an immediate visual association with the House. Not only do these fresh stripes evoke an unstudied, sportif cool against the pure white box packaging, but they also offer a chic reference to Gucci's nearly ninety- year history.
Also prevalent in Gucci's rich history is the horsebit, another iconic symbol inspired by the equestrian world. The distinctive horsebit has been used on the design of the fragrance's silver metal cap, which gives it a masculine touch and another link to Gucci's past.
The bottle's shape, sleek and modern in weighty clear glass, is also distinguished with the scripted signature of Guccio Gucci, who founded the House of Gucci in 1921. All major design components of the bottle and packaging are consistent with Gucci by Gucci Pour Homme, however the lighter colors in which they are delineated – bright white, matte silver metal, clear glass — underscore the at-ease nature of the fragrance itself.
The scent's resolute freshness is created by a blend of citrus and aromatic notes. Specifically, the juicy tartness of grapefruit is played off the aromatic, camphor quality of cardamom. Sun-drenched Corsican Fig nectar adds an interesting contrast of green fruitiness to the mix. Depth is achieved with the addition of rich and woody Patchouli, a signature Gucci ingredient.
Apart from its distinctive construction, Gucci by Gucci SPORT pour Homme stands out with its unusually long-lasting effect. Unlike most sport fragrances, which are characterized by a quick burst and fade of scent, Gucci by Gucci SPORT pour Homme features a special technology that allows the scent to linger on the body for an extended period of time.
The launch of the new fragrance is supported by a global print advertising campaign featuring actor James Franco, who has debuted as the face of Gucci by Gucci pour Homme in 2008. The campaign was photographed by Inez van Lamsweerde and Vinoodh Matadin in Cannes, France guided by Gucci Creative Director Frida Giannini. The resulting images show the other side of the Gucci man evoking a cool masculinity and a sense of freedom.
THE RANGE
Eau de Toilette Spray 50ml $57.00
Eau de Toilette Spray 90ml $73.00
After Shave Lotion 90ml $57.00
After Shave Balm 75ml $40.00
All Over Shampoo 150ml $33.00
Deodorant Stick 75g $27.00
Gucci by Gucci SPORT pour Homme is available in Spring 2010 at major department stores nationwide.