New York Fashion Week Fall Winter 2010. Show: J. Mendel Fall 2010. Makeup by Bobbi Brown Cosmetics.
"The J. Mendel woman for fall is strong and chic, and has an effortless and modern sex appeal…"-Wendy Rowe for Bobbi Brown Cosmetics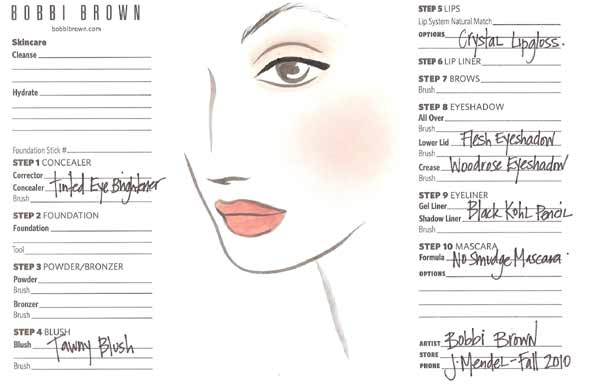 Ultra chic and sophisticated, the makeup for J.Mendel's Fall 2010 Collection is fresh and youthful. Skin is clean and glowing, but cheekbones are pronounced and structured. Eyes are precisely defined with a thin line on outer corners, mixing drama with innocence. A barely there lip completes the look.
These are the Bobbi Brown Cosmetics makeup used to get the J. Mendel Fall 2010 runway look:
Skin: Hydrating Face Cream ($50), Hydrating Eye Cream ($45), Skin Foundation ($45), Tinted Eye Brightener ($38)
Eyes: Flesh Eye Shadow ($20), Woodrose Eye Shadow ($20), Slate Eye Shadow ($20), Black Kohl Eye Pencil (Black Velvet, Fall '10, $22), No Smudge Mascara ($22)
Cheeks: Tawny Blush ($20)
Lips: Crystal Lip Gloss ($17)
Brows: Natural Brow Shaping Gel