Whether you hate it or love it, vampire season is upon us and no one's hotter than the cast of Eclipse. Avon Global Creative Color Director and Hollywood Makeup Artist Jillian Dempsey prepped Kristen Stewart for the Los Angele Eclipse premiere and shared with Us Magazine her look for the stunning starlet.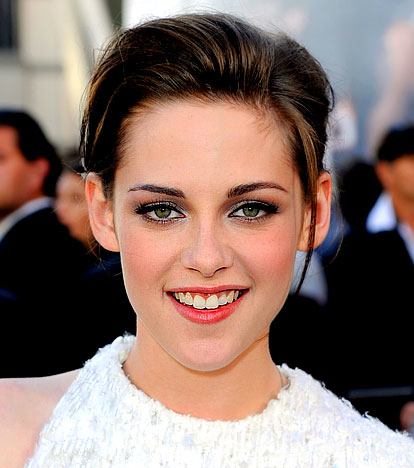 "We made her eyes pop with shimmery, icy tones and added definition with black liquid liner," makeup pro Jillian Dempsey tells Us Magazine. Opting for a more classic look, Jillian Dempsey shares she wanted to keep Stewart's look fresh, while playing up the eyes.
For the premier, Dempsey used: Jillian Dempsey for Avon Professional Duo Eye Enhancer in White/Jet Black, $9.00. One end of the Eye Enhancer contains a creamy, smooth eyeshadow, and the other has a perfectly coordinated luxurious liquid eyeliner (BTW Marta Walsh LOVES this product!)
Avon SuperExtend Mascara in Black, 8.50 The innovative stretch-formula contains triangular-shaped fibers that visibly lengthens lashes up to 55%.

Jillian Dempsey for Avon Professional Multi Pencil in Raspberry Radiance, $8.00 A double-ended pencil includes a soft, smudge-proof eyeshadow on one end and a complementary cream lip and cheek color on the other.
Jillian Dempsey is available exclusively through Avon Representatives.
To locate an Avon Representative call 1-800-FOR-AVON or visit www.avon.com.