Lauren Conrad makes Milk Mustache history by asking teens to choose the look of her ad!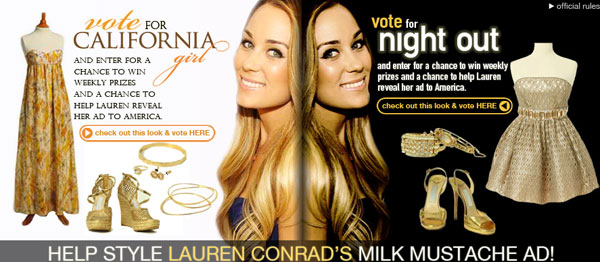 Choose Lauren Conrad's Milk Mustache Ad: Lauren considers milk one of her beauty secrets and knows that drinking it regularly helps her look and feel her best – whether at a red-carpet event or hanging out with friends. To learn some of her other beauty tips, teens can visit bodybymilk.com, where they'll also have the chance to vote on the style of Conrad's milk mustache ad – cool and casual "California Girl" or fun and flirty "Night Out." You can also vote by logging on to the Body By Milk Facebook page.
One dollar for every vote will go to DonateMyDress.org, the first national network to bring together local dress drive organizations across the U.S. to help ensure every girl can have a dream night at her prom. After the winning look is revealed, the other ad will be revealed exclusively to Body By Milk fans on the Body By Milk Facebook page.
"I attend lots of high-profile events, so it's important to me to always look and feel my best," said Conrad. "I know it's about making good choices regularly, like eating a well-balanced diet and drinking plenty of milk. Milk's nine essential nutrients are my beauty secret for healthy, glowing skin and strong teeth, hair and nails."
Lauren Conrad wants teens to know that beauty doesn't always come from the cosmetics aisle or fashion racks. Whether it's getting ready to look your best for a big event or a regular day at school, Lauren has partnered with the National Milk Mustache "got milk? campaign and DonateMyDress.org to show how making the right choices, like eating nutritious foods and drinking lowfat or fat free milk, can help teens look and feel their best. As part of her partnership with the "got milk?" campaign, Lauren is asking teens to cast their votes to make "got milk?" history and help style the milk mustache ad she'll appear in this spring.
For each vote cast, teens will be entered to win fashion and beauty prizes from Lauren's ad shoot. One teen will be selected to win a professional style session and will appear alongside Lauren as she reveals the ad teens chose.
And Conrad knows all about stepping out for big events. In 2005 she attended her prom in front of America as one of the high school seniors on the show "Laguna Beach." Since then, she's grown up to become a bestselling author, appear in numerous TV shows and movies and launch her own fashion line. As the newest face to don a Milk Mustache in the popular "got milk?" campaign, Conrad joins the ranks of more than 290 actors, athletes, models and musicians who have lent their upper lips in support of milk. Conrad's ad will debut this summer.
Benefits from Head to Toe
Conrad isn't the only one who counts on milk as an important part of her beauty routine. Registered dietitian and author of "The Beauty Diet," Lisa Drayer, M.A., R.D. wants teens to know that making the right choices, such as eating nutrient-rich beauty foods and drinking lowfat or fat free milk, can help teens look and feel their best.
"Many women rely on strict regimens, creams and products as part of their beauty routines, but making smart food choices is just as important to looking and feeling fantastic," said Drayer. "That's why true beauty insiders eat a healthy diet, stay active and choose foods and beverages that help improve their appearance from the inside out. Milk is a source of many beauty nutrients, including protein and vitamin A for healthy skin and calcium and vitamin D for strong bones. What's more, research suggests that teens who drink milk instead of sugary beverages tend to be leaner than those who drink little or no milk."1-2
Furthermore, along with exercise, the protein in milk can help build muscle. Studies show that regularly drinking milk during the growing years is associated with greater height, bone size and bone mineralization, while research has linked skipping milk to reduced height and increased fracture rates.