This season fashion and beauty collide with the latest launch from LORAC. LORAC is thrilled to offer you the equivalent of the little black dress (LBD!) in cosmetics with the introduction of the Little Black Palette– an accessory featuring 4 color-coordinating, silky-smooth wearable baked eye shadows and a mini Behind The Scenes Eye Shadow Primer.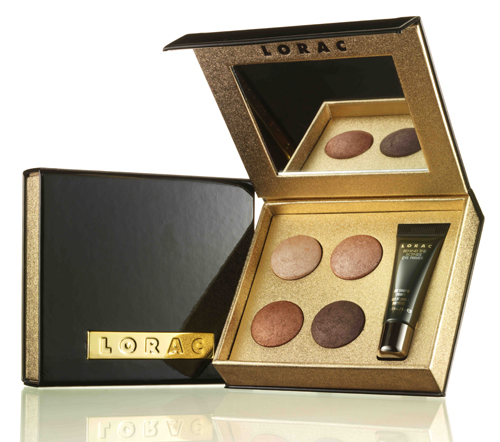 Mix these neutral hues to add a subtle hint of shimmer to your lids for day or create a sexy smoky eye for night. Packaged in a sleek, black patent leather case – this palette not only transforms your look, it transforms your wardrobe — evening wear designer Allen Schwartz of A.B.S agrees!
Red Carpet Authorities – Makeup Artist, Carol Shaw, and Allen Schwartz, Designer and Founder of A.B.S., share their secrets on how to change up your look in a cinch this summer season!
"You can always depend on LORAC's Little Black Palette and a little black dress from A.B.S. to look and feel great," says Carol Shaw. "Creating a smoky eye with my Little Black Palettewill take your little black dress from day time to glam time – instantly," says Shaw.
Makeup can be used to accent fashion as shown by LORAC's Little Black Palette. "You can wear one of my dresses a number of ways by simply changing up your makeup from a casual-chic day look to a glamorous style perfect for night," says Allen Schwartz. Timeless, classic looks are always in style and can easily be achieved with this versatile palette. "The beautiful, universally flattering nude and bronze warm tones reflect what's happening now in fashion," says Schwartz. By pairing Allen Schwartz's chic little black dresses and LORAC's LITTLE BLACK PALETTE, you'll create a chic and elegant look that will never go out of style!
LORAC's Little Black Palette retails for $32 (with a $72 value!) at Sephora, ULTA, LORACcosmetics.com, Sephora.com and ULTA.com.