NARS knows that the holidays bring heavy travel and for any NARSissist, smaller-sized products means the ability to tote more choices along! Introducing exclusive-to-Sephora NARS Holiday Gift Sets. From luscious lips and contoured cheeks to mascara-definition with the perfect felt-tipped liner, the below sets are currently available exclusively at sephora.com.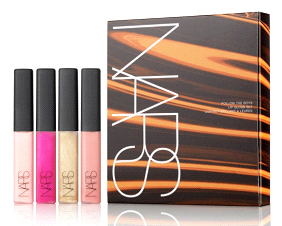 Follow The Boys Set
Four medium-sized lip glosses packed with the perfect amount of sheerness, shimmer and pigment for a long-lasting pout. Simply irresistible on their own, or intriguingly chic layered over NARS lipsticks, these smaller versions are available in this set exclusively at Sephora, $40.
Shades:
Turkish Delight – Pink Sorbet Easy Lover – Ultra Sheer Hot Pink
Moon Fleet – Sparkling Platinum Gold Sweet Revenge – Sheer Pink Grapefruit
Orgasm Lust Set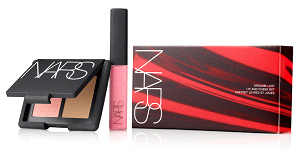 The medium-sized Orgasm/Laguna Duo is being offered for the first time in this exclusive set and boasts the perfect combination for a fresh yet contoured look. Super Orgasm Lip Gloss gives the finishing touch, quintessential to any holiday affair. Available exclusively at Sephora, these medium-sized treats will make a big impact on your makeup bag, $30.
Shades:
Orgasm/Laguna Blush/Bronzing Powder Duo –Shimmering Peachy-Pink & Gold-Infused Brown
Super Orgasm Lip Gloss – Glitter-Flecked Peachy Pink
Trouble Maker Set
They say the way to a person's soul is through her eyes. With PRO-PRIME Smudge Proof Eyeshadow Base, Nuits Blanches Eyeliner Stylo and Larger Than Life Volumizing Mascara, the impact will be full-force. And to remove it all anywhere anytime, this set includes a travel-size Eye Makeup Remover – a delicate formula for erasing all traces of eye makeup, $60.