pHisoderm Anti-Blemish Gel Facial Wash was voted a top acne cleanser by Real Simple magazine, this wash contains a powerful salicylic acid formula to treat and help prevent blemishes while reducing redness.
If you suffer from acne your might want to check out this acne cleanser by pHisoderm. I like to use it sometimes even though I don't have acne. Salicylic acid is also an anti-aging ingredient, it helps exfoliate the skin, a process that slows down with aging:)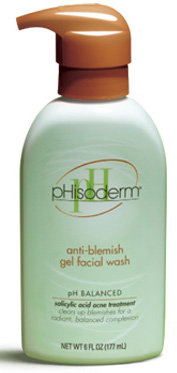 pHisoderm Anti-Blemish Gel Facial Wash is oil-free, pH balanced wash cleans deeply to break the acne cycle. And it sloughs off dead skin cells to uncover clear, healthy, radiant skin. pH balanced. For oily, blemish-prone skin. Dermatologist recommended. Available at: Wal Mart, Rite Aid, Duane Reade, Safeway, Albertsons, and drugstore.com.
You might also like: pHisoderm Anti-Blemish Body Wash. Perfect if you have the odd breakout on your back and chest (and your behind…). Gently removes dirt and oil while soothing the skin with conditioning agents. This oil-free, pH balanced formula contains salicylic acid to deep clean and help treat body breakouts. Aloe, chamomile and vitamin E restore healthy-looking skin without upsetting its pH balance.
pHisoderm Anti-Blemish Cleansing Pads which I like to use after shower to keep my skin in check. Patented formula starts working immediately to treat and help prevent acne. Salicylic acid even works continuously between washings.