All Posts Tagged With: "pHisoderm Anti-Blemish Cleansing Pads"
pHisoderm Anti-Blemish Gel Facial Wash was voted a top acne cleanser by Real Simple magazine, this wash contains a powerful salicylic acid formula to treat and help prevent blemishes while reducing redness.
If you suffer from acne your might want to check out this acne cleanser by pHisoderm. I like to use it sometimes even though I don't have acne. Salicylic acid is also an anti-aging ingredient, it helps exfoliate the skin, a process that slows down with aging:)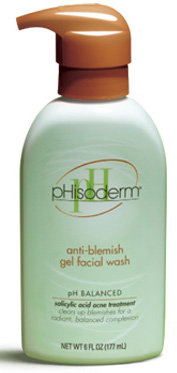 pHisoderm Anti-Blemish Gel Facial Wash is oil-free, pH balanced wash cleans deeply to break the acne cycle. And it sloughs off dead skin cells to uncover clear, healthy, radiant skin. pH balanced. For oily, blemish-prone skin. Dermatologist recommended. Available at: Wal Mart, Rite Aid, Duane Reade, Safeway, Albertsons, and drugstore.com.