Simplify your life with the newest fall launches from Darac Beauty.
Darac Brow Trio: Brows are the best place to set the stage for symmetry and youthful beauty. This on-the-go pencil has everything you need: a goof-proof chiseled brow pencil, an eye brightening phosphorescent powder for a bright alluring look, and a perfect brow blending brush ($22).

Darac Solution Central: Solution Central is a perfectly sleek solution to the age old problem of where your brushes and tools live. Cups get knocked over and allow brushes to collect dirt and dust.
Rolls leave brushes mangled and twisted. Darac's beauty case addresses the need for hygiene, portability, and ease of use. Our case zips closed into an elegant protective clutch, keeping brushes clean and in good form. Once open it pulls up into an artist's palette, allowing you to see and use your brushes and tools with ease for fast flawless makeup application. Additional elastics accommodate essential tools such as sharpeners, tweezers, and the like ($32.50).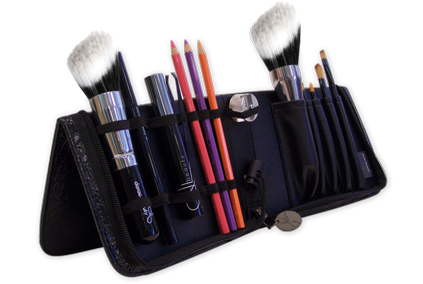 Marta also loves Darac Beauty Sifted Blur & TourQuam 3-D Face Sculpting Brush
Available in August at www.daracbeauty.com