RENOVA (tretinoin cream) 0.02% reduces fine lines and wrinkles due to photodamage and is the #1 prescribed, FDA-approved topical treatment.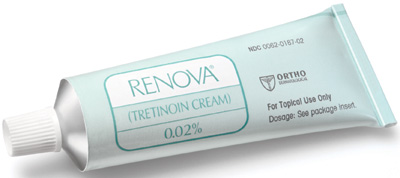 RENOVA is the #1 prescribed, FDA-approved topical treatment clinically proven to reduce fine facial wrinkles due to photodamage associated with chronic sun exposure. As part of a comprehensive skincare and sun protection program, RENOVA can reduce some signs of photodamage, helping to smooth out fine facial wrinkles. RENOVA is a retinoid that contains tretinoin, the gold standard of retinoid therapy for 30 years.
RENOVA Benefits: Within 12 weeks of treatment, patients may notice softer, smoother, more radiant skin.
Studies demonstrated 60 percent of patients using RENOVA experienced an improvement in fine facial wrinkling after 24 weeks of treatment. RENOVA is formulated to reduce irritation associated with tretinoin and is specifically formulated to treat, photodamaged skin. RENOVA is safe and effective 2 and is an essential part of a beauty and skin health regimen; 85 percent of patients showed continuous improvement over 52 weeks of treatment. RENOVA can be used following other anti-aging procedures; including injectables, lasers, microdermabrasion and plastic surgery.
RENOVA® is available by prescription from a dermatologist or physician, and is offered in two tube sizes – net wt. 40g and net wt. 60g.For full prescribing information, please visit www.aboutrenova.com