VICTORIA BECKHAM FALL 2011: MAKEUP MIXOLOGY by Lancôme.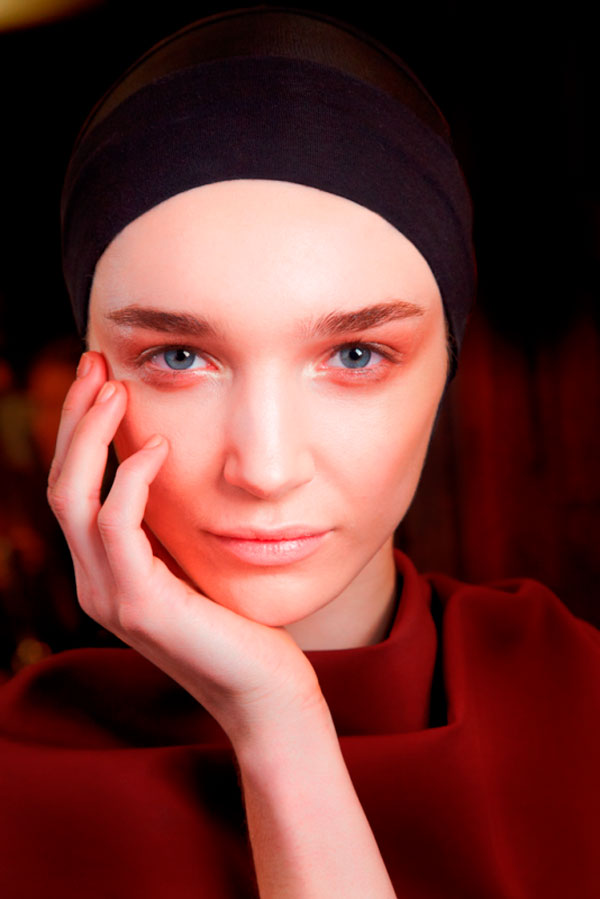 NEW YORK—The models at Victoria Beckham's Fall 2011 presentation resembled beautiful space age equestrians with their futuristic and glowy makeup by Charlotte Tilbury.
The faces, luminous and contoured, were perfectly framed by the black hair caps. Charlotte used two products in a straightforward manner. The new Star Bronzer Natural Matte Bronzing Powder was applied along the cheekbones and on the temples. Modèle Sourcils Brow Groomer in the clear shade, which she declared the best eyebrow gel she's ever used, kept the brows brushed up and in place. The other products were mixed together to get the exact texture and color Charlotte desired. Here are her formulas:
—Foundation = Teint Miracle Lit-From-Within Foundation + Eclat Miracle Complexion Illuminator (mixed together and applied with a foundation brush)
—Gold highlighter = the gold shadow from Color Design 5 Shadow and Liner Palette in Jade Fever + Éclat Miracle Complexion Illuminator (used above the cheekbones, down the nose and above the cupid's bow)
—Nude matte lipstick = L'Absolu Rouge La Base lip treatment + Teint Miracle Instant Retouch Pen (mixed together for a sheer, creamy, matte lip)
—Bronzy eyeshadow = Color Design 5 Shadow and Liner Palette in Taupe Craze + Aquatique Waterproof Eye Color Base (Charlotte mixed the four darkest shades with the base to create a cream eyeshadow)
The hair and nails were customized too. Hairstylist Guido Palau fashioned the sleek hair coverings from two American Apparel headbands and a wig cap. The Butter London nail team customized colors so that each model had a shade to match her skin tone for a mannequin hands finish.