Get The Look: Zoe Saldana and Mila Kunis looked stunning from head to toe at last night's Met Ball in NYC, thanks to their talented hairstylist, Mara Roszak, TRESemmé Celebrity Stylist. Roszak shares with us her stylist secrets on how she created the ladies' gorgeous hairstyles.
Zoe Saldana
Hair Tutorial
1. Apply TRESemmé 24 Hour Body Root Boosting Spray on damp hair and blow dry with a a medium round brush until smooth
2. To give hair a lot of shine (to almost resemble wet hair) apply TRESemmé No-Frizz Shine Spray and TRESemmé Anti-Frizz Secret Smoothing Crème all over the hair
3. Once hair is coated, pull hair back at the nape of the neck, slicking the sides back tightly and keeping a little height at the top. Secure at the nape of the neck with an elastic
4. Spray ends with TRESemmé TRES TWO Hairspray, turn ends under to form a half bun shape, and pin underneath to hide pins, criss-crossing bobby pins for extra security
5. Finally, spray hairspray on fingertips and gently pull the hair on top to give it a slightly textured look. Finish entire look with hairspray for an all-night hold
Mila Kunis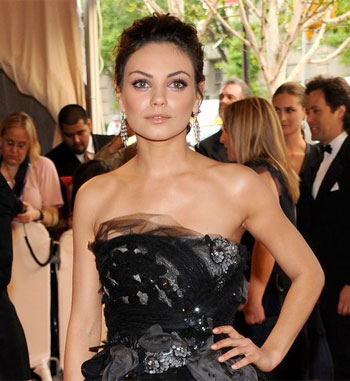 1. Apply TRESemmé Naturals Finishing Spray to dry hair and rough dry, enhancing the natural texture
2. Curl random pieces of hair around the face and throughout the head
3. Apply a dab of TRESemmé Fresh Start No-Frizz Crème to palms of hands and run through hair. Then, loosely grab three sections of hair, starting at the crown and start a french braid
4. Get about half way down the head and secure with bobby pins, leaving out the bottom section of hair
5. Pin up all the hair into a messy bun, criss-crossing the pins, and finish with TRESemmé TRES TWO Hairspray
TRESemmé products are available at food, drug and mass market retailers nationwide. All products are under $5!