New perfume. The Scent of Anna Dello Russo. Exclusively on yoox.com . "Beyond any imagination… beyond any fantasy…you are beyond".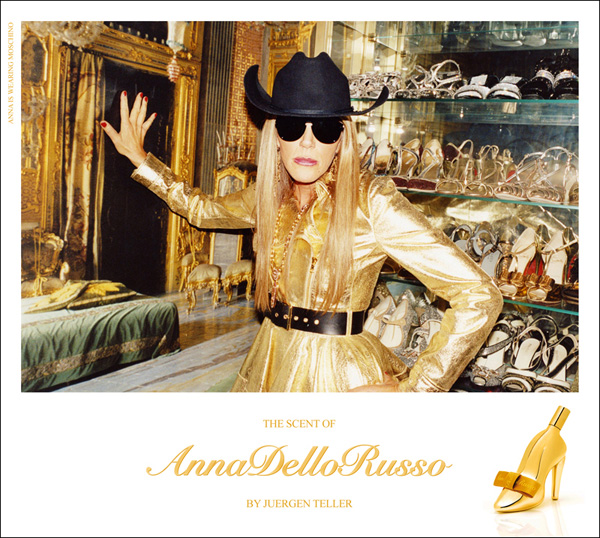 Art direction for Anna dello Russo: Marco Braga and Giuliano Federico for Modecracy
Anna Dello Russo, rising INTERNET ICON and Fashion Director at Large and Creative Consultant for Vogue Japan, will create a signature eponymous fragrance, only for the web and only available at yoox.com, at the beginning of December—just in time for Christmas.
ANNA DELLO RUSSO, the fragrance, is a delectable and sophisticated scent that calls to mind the sensory pleasures of sweet treats and primary sensations. The essence of vanilla mixed with almond creates a scent inspired by the memories and the flavors of childhood— the wholesome smell of warm cookies coming from Grandma's kitchen on Christmas Eve. Anna Dello Russo, the fragrance, is a tactile perception; a smell to touch. "You smell so good that I want to eat you, they will tell you," she says.
After the incredible success of her exclusive special edition T-shirt collection, which sold out in just 180 minutes in yoox.com's virtual boutique, Anna Dello Russo's latest creation, an eponymous fragrance, is created in the same vein—A POP item made for all and perfect for fans who have always loved her style— "popular" just as Anna Dello Russo defines herself. In fact, the idea of creating the fragrance itself was inspired by fan and Art Director Ronnie Cooke Newhouse who describes Anna Dello Russo as an "INSIDER REALITY FASHION STAR."
In collaboration with the prestigious perfumery Firmenich, this unique and transcendental fragrance comes in a golden, slipper-shaped bottle, reminiscent of a romantic fairytale. Ingeniously designed for super portability, it's just the right size to fit in a clutch. And, once you have finished with the fragrance, the luscious shiny shoe can be hung as a memento on the Christmas tree.