Jessica Szohr, the bohemian, downtown actress from hit television show, Gossip Girl, is the cover subject of ASOS Magazine's November 2010 issue.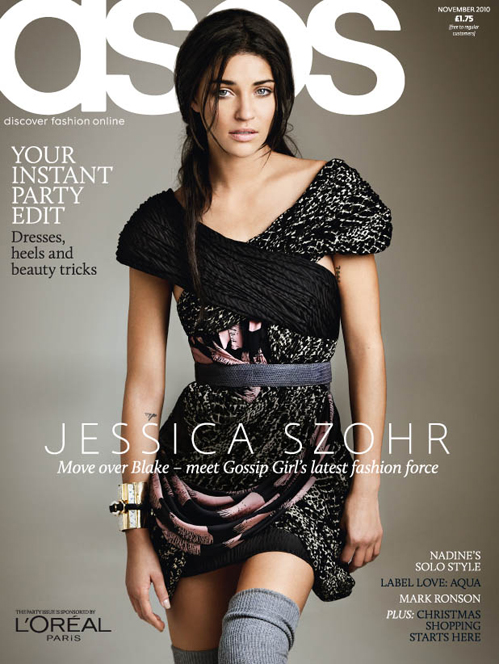 Jessica Szohr Photographed exclusively for ASOS Magaszine by John Lindquist
"At heart, I'm still a simple jeans and T-shirt kind of girl," Szohr admits, whose personal style mixes designer items with pieces picked up at vintage shops and small boutiques. When questioned about her favorite wardrobe on set Jessica confesses, "From the show, I'd choose Jenny Humphrey's style…
Its grungy, rock n' roll, looks thrown together, doesn't look super glam." However, despite this fashionista's style, or Vanessa's fashionable, urban look, Jessica spills that after the cameras stop rolling, she is happiest at home in her sweatpants.
Jessica Szohr dishes the dirt on her personal style, as well as TV persona Vanessa Abrams'. As the only female lead on the show, who has never been crowned "Queen Bee," Jessica finally gets the chance to showcase the alter ego's signature super chic style. Photographed exclusively for ASOS Magaszine by John Lindquist, the actress models pieces by British designer Paul Smith, as well as Rebecca Minkoff, contemporary brand Gomez Gracia, and ASOS's own label. The eight page ASOS spread was shot by London-based photographer John Lindquist in the only plausible location, New York City.