On the evening of August 18th, 2010, Target is taking over The Standard, New York to create a brilliant, larger-than-life fashion show to debut Target Fall 2010 collections. Part fashion show, part light show, the Target Fashion Spectacular will bring the southern façade of The Standard, New York alive. In 155 rooms, 66 dancers dressed in the latest styles will perform dazzling choreography synchronized with fast-paced lighting patterns set to an original music score.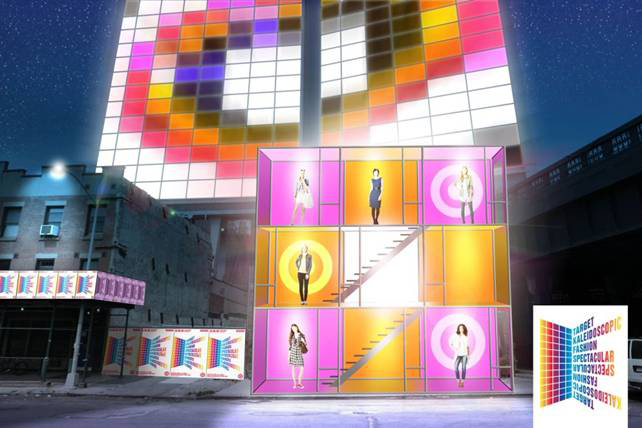 A simultaneous presentation will take place at the street level where models wearing 25 of the hottest looks from the fall Target lineup will appear in a nine-room replica stage that mirrors the windows of the hotel. Guests outside of New York will be able to experience this one-of-a kind event via a live-streaming broadcast at Target's Facebook page: Target.com/spectacular.
The unique collaboration between Target and The Standard, New York represents the partnership between two iconic brands, both committed to superior design and great value.
"Target wanted to capture the excitement of our affordable fall fashion collections in a way that no one has seen before," says Trish Adams, senior vice president, Target. "Using New York City as a backdrop, we're taking the runway show concept to a whole new level. Our looks will be lighting up the night sky on August 18th."
The Target Kaleidoscopic Fashion Spectacular will feature fashion-forward, on-trend looks from men's and women's collections from Target brands Mossimo® , Merona®, Converse® One Star®, Xhilaration®, Pure Energy and Liz Lange for Target® as well as accessories. Guests will be able to log on to Target.com following the show to pre-order select fall fashions.
The Target Kaleidoscopic Fashion Spectacular will take place on the evening of Wednesday, August 18 at 9:00 pm EST at The Standard, New York, 848 Washington Street. The event is free to the public and guests are invited to experience the show live at viewing parties in the surrounding neighborhood on Little W 12th Street (between Washington Street and 10th Ave).