All Posts Tagged With: "Allure January 2009 Issue"
Eva Mendez is goint to be featured on the cover of Allure January 2009 issue!
Until recently, Eva Mendes says, her "movie star" title felt "like an uneasy suit." To make her more comfortable, Allure dressed her in a simple white T-shirt for her cover shoot with Michael Thompson.
For more photos and the story "Preparing for Takeoff," pick up the January issue of Allure, on newsstands December 23.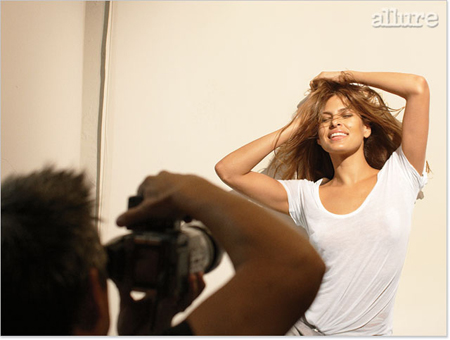 The movie star models for Michael Thompson in a basic white tee, and dishes
on her favorite costars, her controversial Calvin Klein commercial, the rehab
rumors and more.
Eve Mendes is my absolute favorite beauty. A proof, Eva looks beautiful and glamorous in just a T-shirt. Eva Mendes to me is the modern day Raquel Welch who is also one of the most beautiful women in Hollywood of all time. Don't you think?
You can check out exclusive photos found only on allure.com and find out
what happened behind the scenes at the cover shoot HERE!