All Posts Tagged With: "Antica Farmacista"
This Mother's Day pamper your mom with special goodies. Flowers and chocolate are fabulous but you also need something extra. Here are few possibilities:
Clarisonic Skin Care System comes us from the same lead inventor of Sonicare toothbrush. The Clarisonic Skin Care System is used and recommended by leading skincare professionals throughout the country, including top spas and dermatologists.
Clarisonic's sonic micro-massage gently clears your pores. It cleans so effectively that it helps prepare the skin to better absorb other skin care products, such as: serums and moisturizers. How to use: twice a day for 60 seconds. Price: $195. Available at Nordstrom, Saks, and Sephora stores.
Liz Earle Naturally Active Skincare Pampering Weekend Kit includes a selection of miniature sizes from the Daily Essentials, Bodycare and Special Treatment products in an exclusive vanity case. You can choose between Harmony and Bliss of Comfort Vital Oil Candles. Price: $91.50. Available at www.lizearle.com
Antica Farmacista Home Ambiance Fragrance: The Home Ambiance Fragrance utilizes antique inspired apothecary bottles, filled with a fragrance. How to use: to permeate the air through the bottles' open neck and wooden reeds that are inserted to further diffuse the scent. Simply position the fragrance bottle in the room of your choice and uncork.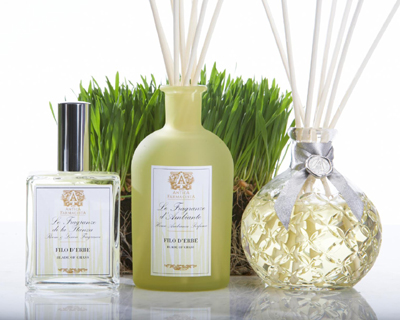 Place the reed bundle into the neck and reverse the reeds every few days or as desired to enhance the scent. The Antica Farmacista fragrance will infuse the air and provide a lasting and constant, beautiful scent, without the worry and mess of a candle. Price: $58-$88. Available at Nordstrom and Bergdorf Goodman.