All Posts Tagged With: "Clarisonic"
Ready to Unlock Radiance with CLARISONIC?
Introducing Clarisonic Sonic Radiance a combination of the Aria/Mia 3 device and brightening formulas, perfect for erasing the signs of summer sun damage and helping with hyperpigmentation. Along with the pearlescent pink brush and formulas, Clarisonic also has clinical trial results that are really impressive! 37% of users saw improvement in texture, followed by 2.5x greater clarity in just a week, and 10x improvement in hyperpigmentation in two weeks. It was tested on a variety of skin tones and types of discoloration, and all showed significant improvement.
Potent skin brightening ingredients ellagic acid and phenylethyl resorcinol combat discoloration, and also provide intense hydration to reveal a smoother, brighter complexion.
I'm finally the proud owner of Clarisonic Mia 2. I saw Clarisonic used in facials at prime salons and even dermatologist office. Needless to say I had a Clarisonic envy for a while now. It feels amazing on the face it wakes it up in an instant, easy to use, and gentle. Somewhat addicting, ha. And did I say, travel friendly.
Clarisonic Mia2 Skin Cleansing System
July 16th through August 1st, 2010, shoppers nationwide will participate in what has been an annual ritual since the 1960's, the Nordstrom Anniversary Sale. Vacation days are planned around it, lines form in anticipation of it – and it's not only for the pre-season savings on fall fashion and accessories.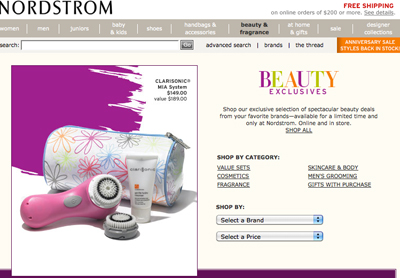 Nordstrom Anniversary Sale 2010 showing CLARISONIC Berry Mia' Set (Nordstrom Exclusive) $149 ($189 Value)
This Mother's Day pamper your mom with special goodies. Flowers and chocolate are fabulous but you also need something extra. Here are few possibilities:
Clarisonic Skin Care System comes us from the same lead inventor of Sonicare toothbrush. The Clarisonic Skin Care System is used and recommended by leading skincare professionals throughout the country, including top spas and dermatologists.
Clarisonic's sonic micro-massage gently clears your pores. It cleans so effectively that it helps prepare the skin to better absorb other skin care products, such as: serums and moisturizers. How to use: twice a day for 60 seconds. Price: $195. Available at Nordstrom, Saks, and Sephora stores.
Liz Earle Naturally Active Skincare Pampering Weekend Kit includes a selection of miniature sizes from the Daily Essentials, Bodycare and Special Treatment products in an exclusive vanity case. You can choose between Harmony and Bliss of Comfort Vital Oil Candles. Price: $91.50. Available at www.lizearle.com
Antica Farmacista Home Ambiance Fragrance: The Home Ambiance Fragrance utilizes antique inspired apothecary bottles, filled with a fragrance. How to use: to permeate the air through the bottles' open neck and wooden reeds that are inserted to further diffuse the scent. Simply position the fragrance bottle in the room of your choice and uncork.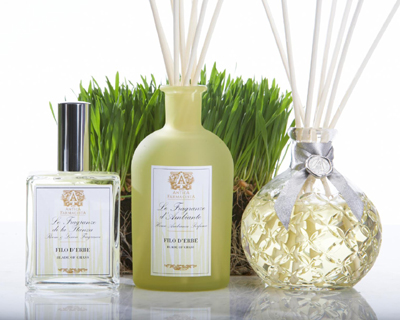 Place the reed bundle into the neck and reverse the reeds every few days or as desired to enhance the scent. The Antica Farmacista fragrance will infuse the air and provide a lasting and constant, beautiful scent, without the worry and mess of a candle. Price: $58-$88. Available at Nordstrom and Bergdorf Goodman.
Clarisonic Skincare Brush is a professional quality skincare brush and a new way to clean your face.  Calrisonic uses similar sonic technology as a Sonic toothbrush to effectively wash your face.  Calrisonic Skincare Brush has 300 moves a second to gently lift dirt and oil.
Why should you use Clarisonic Skincare Brush?  It suppose to be much more effective than cleaning your face with your hands, reduces dry skin patches, oily areas, blemishes.  It also reduces pore size, fine lines, and wrinkles. Clarisonic Skincare Brush works with all skin types even if you suffer from rosacea and seborrheic dermatitis and is recommended by leading dermatologists and cosmetic surgeons. The Clarisonic Skincare Brush set includes: a Clarisonic brush, charger, one normal brush head, one sensitive brush head, and a 2 oz Daily Cleanser.   Cost: $195.