July 16th through August 1st, 2010, shoppers nationwide will participate in what has been an annual ritual since the 1960's, the Nordstrom Anniversary Sale. Vacation days are planned around it, lines form in anticipation of it – and it's not only for the pre-season savings on fall fashion and accessories.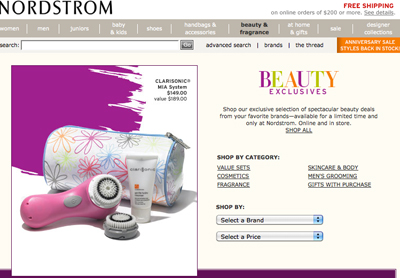 Nordstrom Anniversary Sale 2010 showing CLARISONIC Berry Mia' Set (Nordstrom Exclusive) $149 ($189 Value)
During the Nordstrom Anniversary Sale, the Cosmetic department provides their devoted beauty customers the opportunity to scoop up unique limited-edition items from a wide variety of brands, which are only available during this time.
The Nordstrom team works closely with their fragrance, cosmetic, hair care, skincare and men's grooming brands to develop compelling and one-of-a-kind offerings solely for this event. Some brands use this opportunity to preview fall product launches while others see it as a chance to get a little experimental with the product development process. It also allows brands to create value sets for their customers. This means sneak previews of next season, the chance to pick up something few others will have, and the prospect of finding great beauty deals.
This year, over 100 beauty brands are participating. Some highlights include MAC, Chanel, Juicy Couture, NARS, Kiehl's, Laura Mercier, Marc Jacobs, Dior and Bobbi Brown. As of July 16th, 2010, the sale goes live and customers both in store and online can purchase the limited-edition Nordstrom Beauty Exclusives.