All Posts Tagged With: "Brazilian Blowout"
Five Common Misconceptions About the Brazilian Blowout, Mèche Salon Stylist Debunks Misconceptions.
The summer months are when our tresses need the most TLC. This summer, consider a Brazilian blowout to improve the overall condition and appearance of your hair. The treatment creates a protective protein layer around each strand, eliminating frizz and smoothing out any split ends. The result is smooth, shiny and healthy hair that requires less maintenance time! It's the perfect treatment to get shiny, radiant summer locks.
Mario Mendoza, the Brazilian blowout expert at Mèche Salon in Los Angeles, says that although the treatment has been around for years now, there are still quite a few misunderstandings about the process and results. Mendoza gives us a list of five common misconceptions and the real facts to help clear up the confusion
1. The Formaldehyde Exposure Is Bad For You
According to Mendoza, formaldehyde is actually more common in our environment than we may think. It is found in many products we use on a day-to-day basis such as various hand soaps and nail polishes. The amount of formaldehyde used when heat is added during a Brazilian blowout is actually quite minor. It is also important to remember that the methylene glycol fumes are outside your body during the procedure, not inside. Nevertheless, Mèche Salon has an outdoor station where all Brazilian blowouts are performed in case clients still find the fumes worrisome. Mendoza likes to put it this way: If we have to breathe the air of LA every day, we can handle a Brazilian blowout three times a year.
See if this trendy hair care treatment is worth all the hype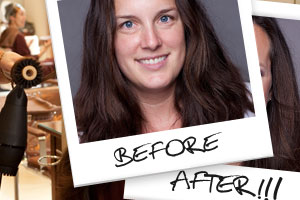 This is a TotalBeauty.com hair care products article
Read about one woman's experience and see before and after photos of her hair.