All Posts Tagged With: "Meaningful Beauty"
Meaningful Beauty, the breakthrough skincare system for youthfully radiant skin developed by Cindy Crawford and anti-aging skincare specialist Dr. Jean-Louis Sebagh, is excited to announce four new, revolutionary products launching first at ULTA/on ULTA.com on August 20th! The four news products – a next generation serum, moisturizer with anti-pollution and anti-blue light technology, a multi-tasking exfoliator/masque and overnight creme with retinol – are created with the most cutting edge technologies and ingredients.
Environmental Protecting Moisturizer Broad Spectrum SPF30 Sunscreen – $65, select ULTA stores/Ulta.com
With busy travels plans, and constant seasonal entertaining, keeping skin healthy and protected during the summer months can sometimes fall to the wayside. Thankfully, Meaningful Beauty®, the breakthrough skincare system developed by Cindy Crawford and anti-aging specialist Dr. Jean-Louis Sebagh, has created restorative and preventative skincare that will recover and repair skin to keep it healthy and glowing throughout the season.
This restorative treatment combines the power of a serum with the rich, moisturizing effects of a crème, working together to create a super-boosting product to help protect skin, increase hydration and prevent the appearance of fine lines and wrinkles. Offering a fresh, dewy look desired by all.
Today I got to try for the first time the Meaningful Beauty Cindy Crawford skincare line. I must say, I was pleasantly surprised. I tend to not always believe in celebrity endorsed products simply because sometimes it's just a hype and the products are not that good. But I like this one.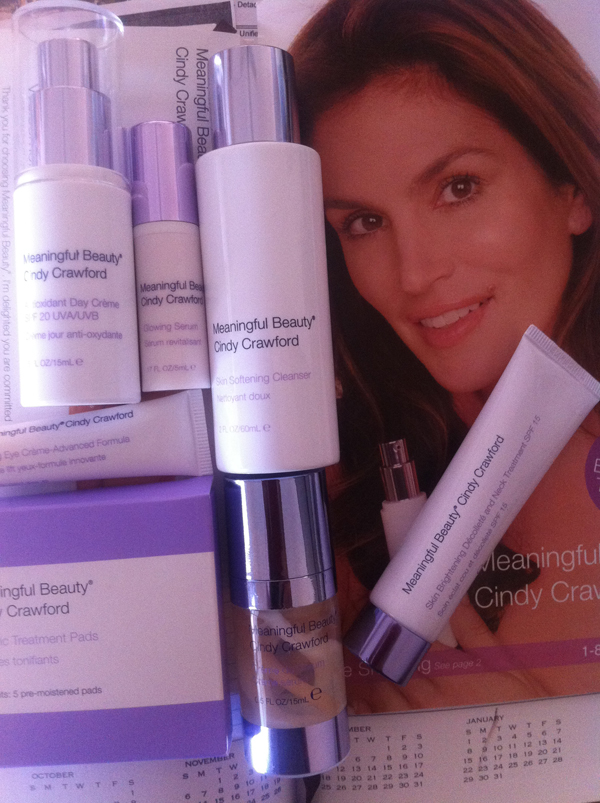 Meaningful Beauty Cindy Crawford Skincare Collection
The skincare products in the Meaningful Beauty Cindy Crawford collection I've used today were all non-greasy, mild, moisturizing, light and easily absorbed to skin, and fit really well in my skincare routine. I'm a bit a 'snob' when it comes to products. I really cherry-pick the best of the best of beauty products and use them daily. To bring a new kid on the block doesn't happen everyday, ha!
Dr Sebagh Skincare was founded by a Parisian Cosmetic Surgeon ,Dr Jean Louis Sebagh.  Dr Sebagh got popularity amongst many models and celebrities, such as Cindy Crawford who created her own skincare line, Meaningful Beauty in collaboration with Dr Jean Louis Sebagh.  Dr Sebagh is known for his skin enhancing anti oxidants injections and has long been regarded as one of Europe's most prestigious aesthetic doctors.  In the early 1990s, Dr. Sebagh pioneered the use of Botox, collagen, vitamin and antioxidant injectables.
Dr Sebagh Skincare goal is to deliver high concentrations of vitamins and minerals direct to the epidermis, leaving your visibly younger.  In the U.S. You can find Dr Sebagh skincare in Barneys New York and at Bliss Spa and stores like SPACE.NK.apothecary in the UK.
Check out Dr Sebagh For Your Eyes Only which is a powder and cream when mixed together designed to reduce dark circles and puffiness whilst providing hydration to restore a youthful look to the skin.  The powder contains MPI which is a natural enzyme that slows collagen loss and diminishes under eye circles.  The cream formula contains a substance to reduce fatty deposits under the eyes.  You custom mix the powder and cream as you  desire.  For example, use more powder than cream if your concern about dark circles.  Cost:  $140.