All Posts Tagged With: "Milbar Laboratories"
Introducing M LAB, the ingredients for beautiful skin.
A global leader in the art and science of Cosmeceutical development, Milbar Laboratories has been formulating innovative skincare in the medical market for dermatologists and plastic surgeons for over 25 years. Always on the cutting edge, Milbar Laboratories presented their scientists with a unique challenge-to create without limitation, the most efficacious and luxurious anti-aging formulations. Thus, M LAB born.
Originally launched at London's most famous Harrods in the prestigious White Hall, M LAB consists of unprecedented levels of clinically active ingredients, ranging from 45% to 74%. Average luxury cosmeceuticals may contain 10%-20% clinically active ingredients, making M LAB the most powerfully corrective and effective skincare line.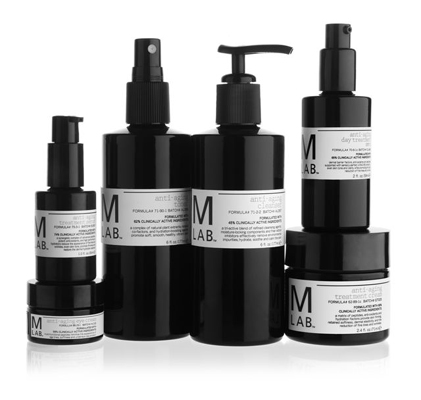 These active ingredients are combined in a matrix formula that targets all visible signs of aging, resulting in skin firming, the reduced apearance of fine lines and wrinkles, improved clarity, color and texture of skin, and noticeably younger looking skin.
The sleek M LAB collection comes in shiny, mod black bottles and jars with white labels.
Created to target every visual sign of the aging process, the M LAB line includes treatment creams, serums, sunscreens, cleansers, and toners. M LAB skincare line is formulated with ingredients such as: peptides, antioxidants, and plant extracts.
M LAB is available exclusively at Harrods London and at: www.mlabonline.com .