All Posts Tagged With: "M LAB"
You don't want to miss this very special M Lab giveaway…just for you!
Simply enter passport code BEAUTYMAVERICK in the 'M Lab Rewards' field on the their landing page (bottom right), and you/your readers will receive a complimentary M Lab Preview Pack (valued at over $100).
Wow. I want one for myself:)
There's absolutely no purchase necessary and no contest to enter. Just provide an address for delivery, and M Lab will take care of the rest.
We are very excited about our Beauty Interviews October 2008 Edition. This month's edition is a mega celebrity one, including an interview with actress Malin Akerman, which also was the inspiration for Beauty Interviews' cover.
Malin Akerman starred in the 2007 Farrelly Brothers movie The Heartbreak Kid and in the 2008 film 27 Dresses opposite Katherine Heigl. Malin will also play Laurie Juspeczyk in the upcoming film adaptation of Watchmen, and The Proposal.
Other celebrity interviews in this month's Beauty Interviews: Brea Grant stars as the new "hero" on the hit NBC's science fiction series "HEROES". The season kicked off on September 22nd with all new episodes so make sure to stop by and watch Brea Grant as she playing the character of Daphne Millbrook.
Patricia Kara  an actress, model, and a TV personality best known as Deal or No Deal's #9. Patricia along with Tameka Jacobs, were the only ones chosen to be on the new Daytime Deal or No Deal with Howie Mandel, which premiered in September 2008.
Layla Kayleigh-a multi-talented host, actress and singer. Originally from London, England. Layla can currently be seen as a co-host on the hit MTV series "America's Best Dance Crew" with Randy Jackson (airs Thursdays at 10pm ET/PT).
Nadia Comaneci a winner of five Olympic gold medals, and the first gymnast to be awarded a perfect score of 10 in an Olympic gymnastic event. She is also one of the best-known gymnasts in the world.
After a long day at the beach, restore your skin with M LAB Body Treatment Cream.
Formulated with 55% clinically active ingredients, M LAB Body Treatment Cream helps to even out skin tone after sun exposure while hydrating and soothing your dry skin. Restore your glowing skin with peptides, exfoliants and hydrators while reducing any wrinkles that result from your day in the sun. SRP: $$185 for a 6.7 oz. jar.
Where to buy M LAB Skincare Products: M LAB is available exclusively at mlabonline.com and Harrods London.
Introducing M LAB, the ingredients for beautiful skin.
A global leader in the art and science of Cosmeceutical development, Milbar Laboratories has been formulating innovative skincare in the medical market for dermatologists and plastic surgeons for over 25 years. Always on the cutting edge, Milbar Laboratories presented their scientists with a unique challenge-to create without limitation, the most efficacious and luxurious anti-aging formulations. Thus, M LAB born.
Originally launched at London's most famous Harrods in the prestigious White Hall, M LAB consists of unprecedented levels of clinically active ingredients, ranging from 45% to 74%. Average luxury cosmeceuticals may contain 10%-20% clinically active ingredients, making M LAB the most powerfully corrective and effective skincare line.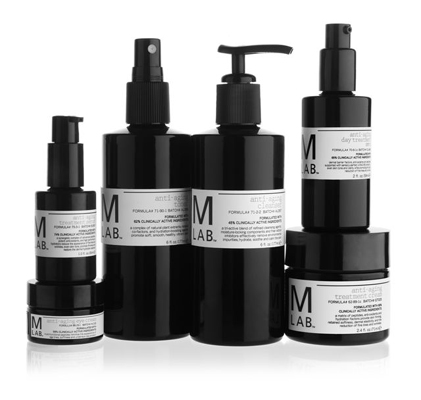 These active ingredients are combined in a matrix formula that targets all visible signs of aging, resulting in skin firming, the reduced apearance of fine lines and wrinkles, improved clarity, color and texture of skin, and noticeably younger looking skin.
The sleek M LAB collection comes in shiny, mod black bottles and jars with white labels.
Created to target every visual sign of the aging process, the M LAB line includes treatment creams, serums, sunscreens, cleansers, and toners. M LAB skincare line is formulated with ingredients such as: peptides, antioxidants, and plant extracts.
M LAB is available exclusively at Harrods London and at: www.mlabonline.com .