All Posts Tagged With: "parfume"
I just can't get enough of the Miss Dior Cherie Commercial by Sofia Coppola and the song, SO sweet! What a brilliant way to translate Miss Dior Cherie into life!
Miss Dior Cherie the parfume: This is a modern fragrance that captures the timeless couture spirit of Dior. A new interpretation of the original Miss Dior fragrance, Miss Dior Cherie combines pure couture spirit with the audacity of youthful, playful notes for a fresh approach to a timeless classic. Notes of chic, green tangerine, violette, and pink jasmine mingle with soft patchouli, musk, and delectably sweet strawberry leaves and caramelized popcorn for a delicious scent that's truly irresistible.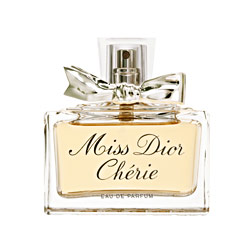 Notes: Green Tangerine, Violette, Pink Jasmine, Patchouli, Crystalline Musk, Strawberry Leaves, Caramelized Popcorn, Strawberry Sorbet.
Available at www.sephora.com