This Mother's Day, Moroccanoil has introduced the perfect gift — one that gives mom the practical and luxurious gift of beautiful hair and the satisfaction of helping to support awareness of a worthy cause. The limited-edition Moroccanoil Mother's Day Beach Bag features the Breast Cancer Research Foundation Pink Ribbon and contains a special selection Moroccanoil argan oil-infused daily haircare products to strengthen, repair and condition hair while they smooth, help prevent frizz and static, and leave strands with lustrous shine.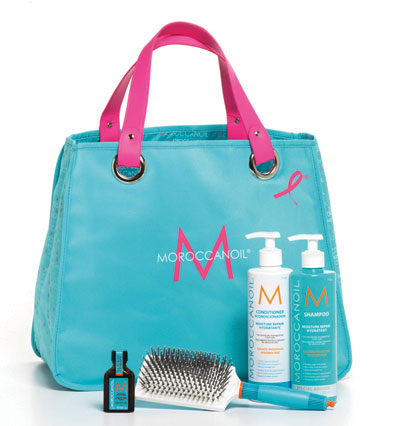 In addition, this Mother's Day, Moroccanoil is donating a gift of $15,000 to The Breast Cancer Research Foundation, (BCRF) an independent, not-for-profit organization dedicated to preventing and finding a cure for breast cancer.
The Moroccanoil Mother's Day Beach Bag contains: Moroccanoil Moisture Repair Shampoo (16 fl. oz); Moroccanoil Moisture Repair Conditioner (16 fl. oz); the original Moroccanoil Treatment (.85 fl. oz); and a new Moroccanoil Ionic Ceramic Paddle Brush.
Available in salons and spas nationally, the gift is available for $88.00.
For more information please visit www.moroccanoil.com.
The Breast Cancer Research Foundation, (BCRF) is an independent, not-for-profit organization dedicated to preventing and finding a cure by providing critical funding for innovative clinical and translational research at leading medical centers worldwide, and increasing public awareness about good breast health. A minimum of 85 cents of every dollar donated to the BCRF goes to research and awareness programs. For more information please visit www.bcrfcure.org