New York Fashion Week Report. Redken Creative Consultant Guido chose a natural, effortless high-shine hairstyle for Alexander Wang's collection this Spring/Summer 2012 season to create the overall look of nonchalant yet elegant downtown girl.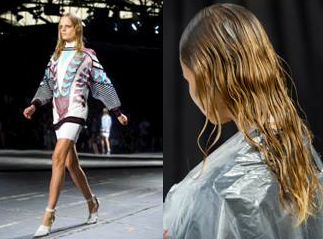 "This is a very natural look that a girl could very easily achieve herself. It's got that 'just out of the shower' feel to it, and I think it's very chic to have a wet hair look when fully dressed in amazing clothes, like Alexander Wang. The very trendy, fabulous clothes in this collection paired with the effortless hair makes for a very cool finished look."–Guido, Redken Creative Consultant
Redken Products:
– full frame 07 all-over volumizing mousse
– All Soft Argan-6 Multi-Care Oil (available October in salons)
Create the Look:
– Section hair and heavily apply full frame 07 protective volumizing mousse to damp hair from roots to ends
– Create a messy center part and rough dry with a blow dryer for natural texture
– Next heavily apply All Soft Argan-6 Multi-Care Oil to hair for a super high shine look
About Redken All Soft Argan-6 Multi-Care Oil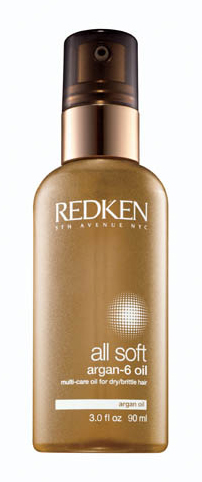 This omega-6 enriched, fair trade argan oil formula envelops hair in concentrated softness, nourishment and protection. All Soft Argan-6 Oil can be used six different ways to dramatically transform the texture of dry, brittle hair:
On Wet Hair
1. PROTECT: Pre-Blow-Dry Shield
2. ILLUMINATE: Styling Shine Booster
3. SOFTEN: Treatment Booster
On Dry Hair
4. MOISTURIZE: Pre-Shampoo Treatment
5. SMOOTH: Post Blow-Dry Perfector
6. RECONDITION: Overnight Treatment
**Redken All Soft Argan-6 Oil will be available in salons beginning in October 2011.