Tracey Cunningham, Redken Creative Consultant for Color and Hollywood colorist, helped Amy Adams and Emma Stone prepare for the awards with Redken color.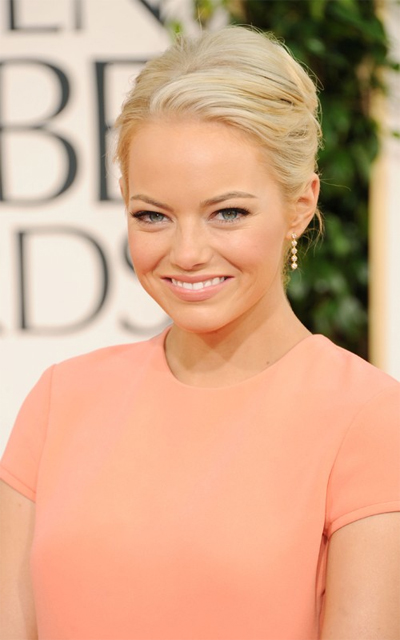 Emma Stone
If you're looking for Amy or Emma's color, ask your colorist for the following formulas:
· Amy Adams: Apply equal parts of Color Fusion Rubilane 7Cc and 7Go (with a 20 volume Pro-Oxide). Finish with Shades EQ 000 Crystal Clear
· Emma Stone: Apply Redken Color Gels 8AB Stardust (with a volume 30 developer). Finish with Shades EQ 000 Crystal Clear for added shine.
· Color Fusion is a modern, permanent color cream that delivers healthy-looking, multi-dimensional haircolor. Color Fusion shades feature Redken's exclusive Colorbond Technology which includes High Tenacity Dyes that lock together inside the hair, Ceramide that repairs the surface and seals the hair to protect the beauty of the color, Cationic Conditioners that nourish and smooth the hair and Coconut Oil that helps form a protective barrier against water.
· Color Gels is a reliable and dynamic haircolor brand for any shade of pigmented hair that features a Select Dye System that contains 100% oxidative, UV-stable, long-lasting dyes for holding power and resistance to fading.
· Shades EQ is a demi-permanent color which provides healthy, shiny results, incredible conditioning with an amazing number of mixing possibilities. Shades EQ is used as a glaze, color refresher, and also color correction. Ingredients include acidic pH; no lift, non-ammonia formula; long-lasting colorants; wheat amino acids, and silicon.
· Remember to use a haircare regimen to protect your haircolor – Tracey recommends Redken Color Extend line which includes:
o Color Extend Shampoo
o Color Extend Conditioner
o Color Extend Rich Recovery
o Color Extend Total Recharge
o Color Extend Shine Enrich
Check out Redken's Color Glossary to brush up on color terms so you and your colorist can have an informed conversation. Get to know Tracey and ask her your hair color questions by logging on to Redken.com, Ask The Experts page.