CARGO Cosmetics is expanding their blu_ray line of high definition make-up to help you look flawless in every light, from your office to the bright summer sun.
The new product additions to CARGO's blu_ray Line of High Definition Makeup will be available on August 24 in Sephora!
Now, due to popular demand from professional make-up artists and everyday women alike, blu_ray is expanding! In addition to the blu_ray Pressed Powder, High Definition Mattifier, Mascara, Lip Gloss and Blush/Highlighter, CARGO has added:
1. CARGO blu_ray Polishing Cloths -The Polishing Cloths are the ultimate skin primer, designed to prep the skin for make-up or moisturizing. The cloths, made of nano-scale fibers, exfoliates the skin's surface to provide a soft, gorgeous, glowing canvas for makeup or moisturizing. Gentle enough for even the most sensitive skin, the Polishing Cloths are a must for maintaining a smooth, luminous appearance, ($15.00).
2. CARGO blu_ray Concealer -Waterproof, weather-resistant and wrinkle fighting, this Concealer does it all. Applied with a special pen-style, sponge tip dispenser, the Concealer contains light-diffusing pigments that provide flawless coverage while looking completely natural. The formula contains Visilox , a blend of antioxidants designed to relax, plump and smooth the skin. Dermatological studies show that Visilox is an excellent cosmetic alternative to Botox. blu_ray Concealer brightens, lightens and tightens, For sheer coverage, blend with the fingertips or a foundation brush. To build the coverage on hard to cover areas, use your finger to press and pat the product, ($28.00).
3. blu_ray Blush/Highlighter (NEW shade)-The Blush/Highlighter that has already sparked a cult following is back with a new, deeper shade for fall. This universally flattering Blush/Highlighter contains Photochromatic pigments that adjust to any light, to provide a natural glow. This oil-free formula contains micro-fine particles to fill in fine lines, for a smooth looking complexion, ensuring you're always picture perfect, whether in front of the camera or under harsh fluorescent lights. For a natural application of color, apply to the apples of the cheeks and along the cheekbones, using a large fluffy blush brush, ($28.00).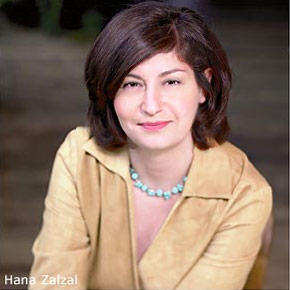 Hana Zalzal Founder of CARGO Cosmetics.
According to CARGO Founder Hana Zalal, blu_ray has been a smash hit from inception. "We knew we were onto something special when the celebrities themselves were taking blu_ray products from the set to use in their everyday lives," she said.
The first CARGO blu_ray products were launched in February 2008. CARGO blu_ray is a revolutionary line of cosmetics created for professional make-up artists working on television and film productions. These artists needed cosmetics customized for the unforgiving medium of high definition filming and photography, where every flaw is magnified. CARGO blu_ray was designed to provide perfectly natural coverage for everyday wear. blu_ray is ideal for filming, photography, weddings, special events and for everyday beauty because life happens in high definition.