CHANEL introducing Mousse Exfoliante Pureté: With the debut of the Cleansers and Toners Collection, CHANEL PRÉCISION gave women a new means of de-polluting and protecting skin with purifying formulas perfectly calibrated for every woman's skin type. Bringing together the science of nature and the innovation of PRÉCISION, CHANEL extends this landmark collection to address the particular needs of combination-to-oily skin.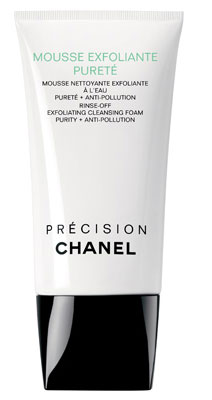 At the heart of this high-performance, mousse-based formula: Tulip Tree Extract, a natural de-pollution agent known to effectively stop environmental aggressors before damage is done. This precious substance, secreted on the surface of the Tulip Tree's leaves, traps pollutants that are then washed away by rainwater.
Adding to the efficacy, Bioglucane, a biotechnological ingredient, empowers the formula to help preserve and protect skin's barrier function. Combination-to-oily skin immediately sees benefits as gentle exfoliating beads and natural Meadowsweet Extract control surface oils. A luxuriously lightweight texture glides on for new suppleness and a healthy, natural glow.
MOUSSE EXFOLIANTE PURETÉ Exfoliating Cleansing Foam Purity + Anti-Pollution, $45.00
On counter: August 2009
Available at www.CHANEL.com , select CHANEL boutiques, and department and specialty stores