Pantene Celebrity Stylist Danilo styled Dianna Agron's hair for the 2011 Golden Globes. This was Danilo's first time working with Dianna, who he called a "total sweetheart." Congrats to Dianna for Glee's win for Best Television Series – Comedy or Musical! See a complete step-by-step below on how to get this show stopping look.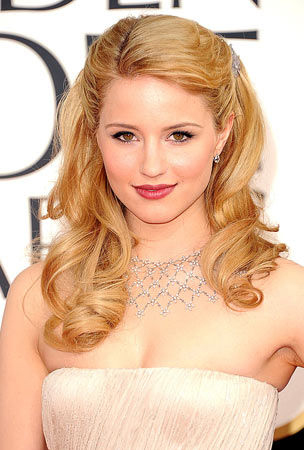 Danilo and Dianna decided on a half-up glamour set to complement her strapless J. Mendel dress. "When you style hair for the red carpet you have to take into account that it must look good from every angle," said Danilo. "I wanted her hair to have the ability to be undone, have movement, and be shiny, but didn't want her to worry about it all night which is why a half-up style was the perfect choice." Although she was out the door before he knew it, Danilo thought of the style – "It was very simple, very pretty hair that was clean, contemporary Hollywood glamour."
The Hair Tutorial. Here's how to re-create Dianna's hairstyle:
1) Start with freshly-washed, towel-dried hair so it's clean for styling.
2) Mist your hair with the Pantene Pro-V Fine Hair Heat Protection & Shine Spray for a conditioning base, and then spray the Pantene Pro-V Fine Hair Root Lifter Spray Gel on your roots to prep hair for volume on top.
3) Blow dry your hair, then use a dollop of the Pantene Pro-V Restore Beautiful Lengths Smoothing Balm to coat each section of hair before applying heat from the iron.
4) Using a medium-to-large curling iron for the glamour set, curl hair down and under before setting to cool.
5) Once hair has cooled in the set (10-15 minutes), release the curls and brush through to reveal voluminous waves.
6) Lightly spread more of the Smoothing Balm through your waves as needed to clean up the slides and tame fly-aways.
7) Part your hair to the side of your preference, smoothing hair back on each side with your fingers, and pin back with your hair pieces.
8) Pull the remaining hair forward, shaping hair to appear full out of the hair pieces so the waves fall in front of your shoulders for a soft, elegant look.
9) Use a finishing spray like the Pantene Pro-V Fine Hair Professional Level Style Shaping Hairspray on the front and sides of hair to lock in loose curls. Leave the back curls alone so they keep their flowing movement.