EL AL, the national airline of Israel, is now offering passengers who purchase a ticket to Israel online an exclusive promotion with AHAVA. EL AL passengers receive a voucher for a 30% discount on all full-priced AHAVA products and a 10% reduction on any sale priced items. In addition to the discount, a complimentary gift is given to anyone purchasing a roundtrip ticket at elal.com in the month of February and is traveling to Israel before December 30, 2010.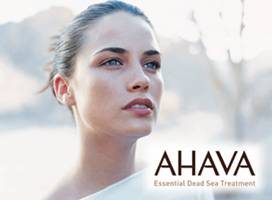 The voucher can be utilized through 2010 at an AHAVA store in Israel in any of the following locations: Jerusalem (Alrov Mamilla Avenue), Tel Aviv (the Hilton Hotel), Ein Bokek (the Ein Hatchelet Mall at the Dead Sea), Mitzpe Shalem (the Ahava Visitor Center at the Dead Sea), and Latrun (the Mini-Israel Site).
Please visit www.elal.com  to purchase a ticket and take advantage of this exclusive promotion.
About EL AL
Celebrating more than 60 years of service, EL AL, Israel's national airline, offers the most nonstop flights between New York (JFK/Newark) and Israel as well as the only nonstop service from Los Angeles. Worldwide, EL AL flies to more than 40 destinations from Israel and serves dozens of other destinations throughout the world via partnerships with many other carriers (including 22 additional cities in the U.S.A.). Only EL AL has First Class service on nonstop flights between the U.S.A. and Israel. The airline has annual revenues of about $2.1 billion and carries more than 1.9 million passengers every year.
EL AL embodies Israel's values of innovation and caring and the promise of a genuine Israeli welcome. Your Israel experience begins with EL AL and warm Israeli hospitality. Israeli flight attendants will make you feel at home, the best trained Israeli pilots will take you to and from Israel and passengers enjoy enhanced in-flight dining with freshly prepared healthy meals.
EL AL. It's not just an airline. It's Israel.